Hi all,
It's been a very long time since I've posted here! The last game I played was 4th edition, but the new one looks interesting enough to get me back into modelling. I picked up a boxed set on a recent trip to Edinburgh, and have slowly been getting some painting done in my spare time.
The box set comes with some excellent plastic nob models, and the little boss nob that comes on the Boyz sprue just didn't really compare. So I started wondering, what to do with that model?
At the same time, I've been wanting to get a Weirdboy because "da jump" really seems like it will add some interesting strategy to the ork army. I'm not really a fan of the stock Weirdboy model though. Instead, I like the aesthetic of the 'Umie Sanctioned Psykers, who really look like they're in pain and suffering some otherworldy mental burden.
(Image credit: diy-terrain.com)
I remember in 2nd edition, the fluff was that Weirdboyz get a powerful headache as psychic energy builds up, which they desperately try to 'ground' as they lean on their copper staff. If it's too much to handle they will "vomit" psychic energy. It would be neat to bring out that kind of weary, pained appearance in an Ork weirdboy model.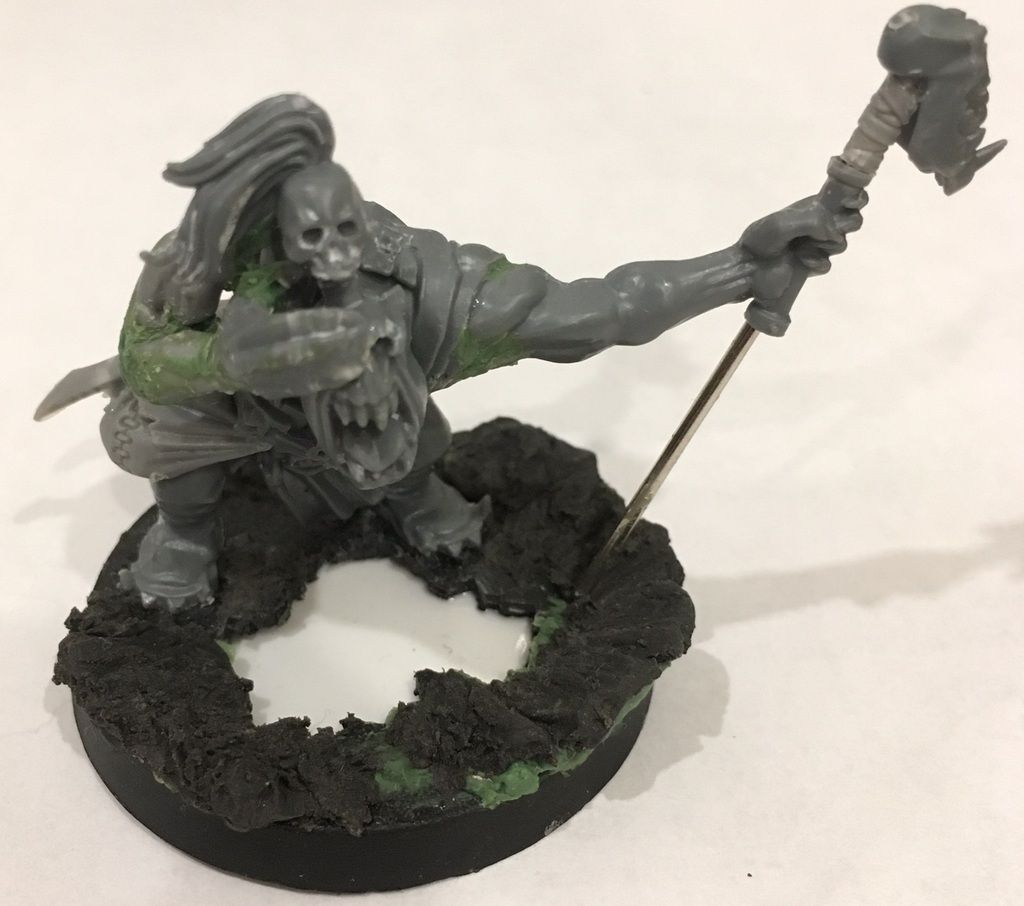 I made a staff-holding arm from the stikkbomb arm, drilling through the handle to allow a paperclip to form the staff. (The base of the staff is a little plain; it's still a work in progress as I'm looking for the right size of beads to decorate it). The ork skull on top is intended to be the skull of the previous weirdboy and it mimics his own expressions; hopefully this will come across once it's painted. To make it look like he was applying weight to the staff, I leaned the ork's body very far forward. I used the screaming head with a missing eye; it looks great to me as-is for this role and didn't really need any changes. A kroot satchel balances out the posture.
As a long-time migraine sufferer myself, I knew all-too-well the pose that would convey to get across the suffering of the weirdboy's powerful headache. I couldn't find any stock arms that were at all close to what I wanted though, so I had to do some rather thorough greenstuff modifications. I was a bit nervous due to being rather inexperienced with greenstuff. It took quite a bit of time to get it exactly right, but I'm happy with how it turned out.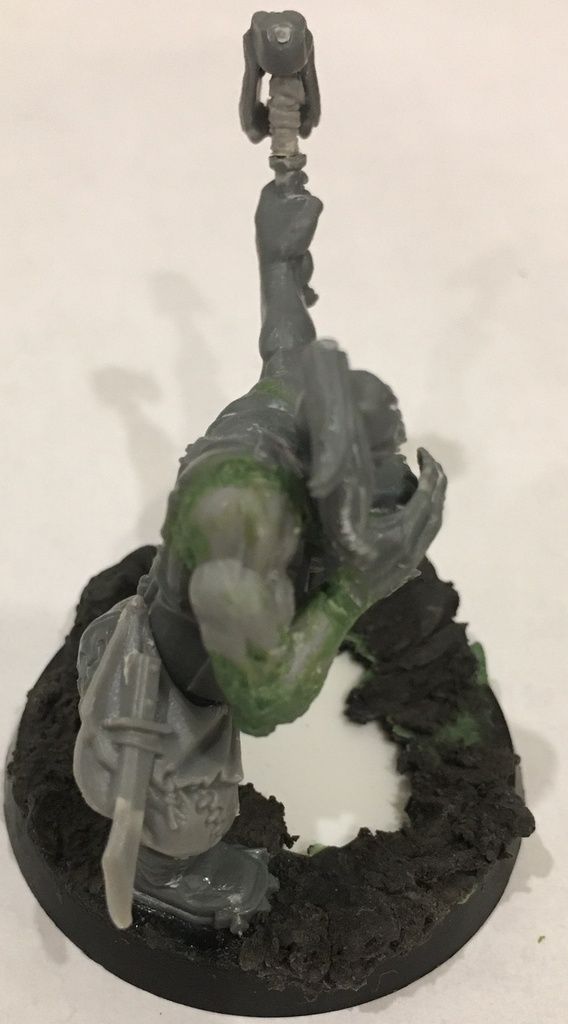 Lastly, to really convey the psychic power like he's charging up Da Jump, I thought I'd try for a kind of "Dragonball Z" effect like he's sinking into a crater with the earth falling away from beneath his feet. I drilled an irregular hole through the base and put a piece of plasticard underneath to create a depression; I'll probably paint it like some kind of warp portal. Then I used some of the leftover greenstuff that I'd already mixed, and some milliput, to sculpt the crater.
Let me know what you think! Going to try painting it soon.