'Well guys da boss has made me show you some of da boyz like so you's don't go trespassing in our territories. Though if ya wanna I'm sure we can organize a krumping.'
Well guys this is my plog for the other half of my greenskin addiction; my fantasy orcs. I basically bought a whole tonne of orc boyz (bought three or four of the boxes before the number in them was cut in half) so I have about 100 of them to paint up along with several characters and I need to repaint a unit of Black Orcs (or rather finish them up).
Anyway I'm going for a whole disparate tribe sort of look where all the boyz have been integrated from beaten tribes rather than having units follow a overall theme. This I think makes for a more believable orc army than a regimented and unified look and will hopefully stop me getting bored as I can just mix it up a bit and try something new.
So yer that's the idea for the whole army. Unfortunately I only have a few models painted up at the moment (Well ok, I have quite a few painted up but as my style has finally developed to a point where I think I'm really happy with going ahead and trying to paint everything they look a bit stupid stood next to the new guys and way to bright and clean.).
Anyway here's the photo's I have so far for you.
One of the finished Black Orcs (though I need to repaint the base trim). I've got 19 more of these guys that need the edging done on the armour and highlights everywhere else and unlike everything else in the army they have a unified blood covered look to represent them being Black Orc's and more disciplined.
Now for the rank and file (all three of them). Not much but shows how I'm going for a real mixed and random approach. These are all from the same unit and yes I know their all differently armed. The plan is to have a large amount of them armed with one hand weapon and knife or shield and then have the rest armed with two hand weapons or spears. This way I can have the unit and run them as all the options just shove all the guys with the right armament to the front and the rest to the back. Obviously I plan on running them as hand weapon and shield most the time but I like to have the option and it shouldn't present to much of a problem unless I play a real WYSIWYG stringent person.
Also shown is the standard which I'm currently painting alongside the shot gun ork for my Nob army in 40k. I think i still need to bloody the standard up a bit as it looks a bit clean still but we'll see.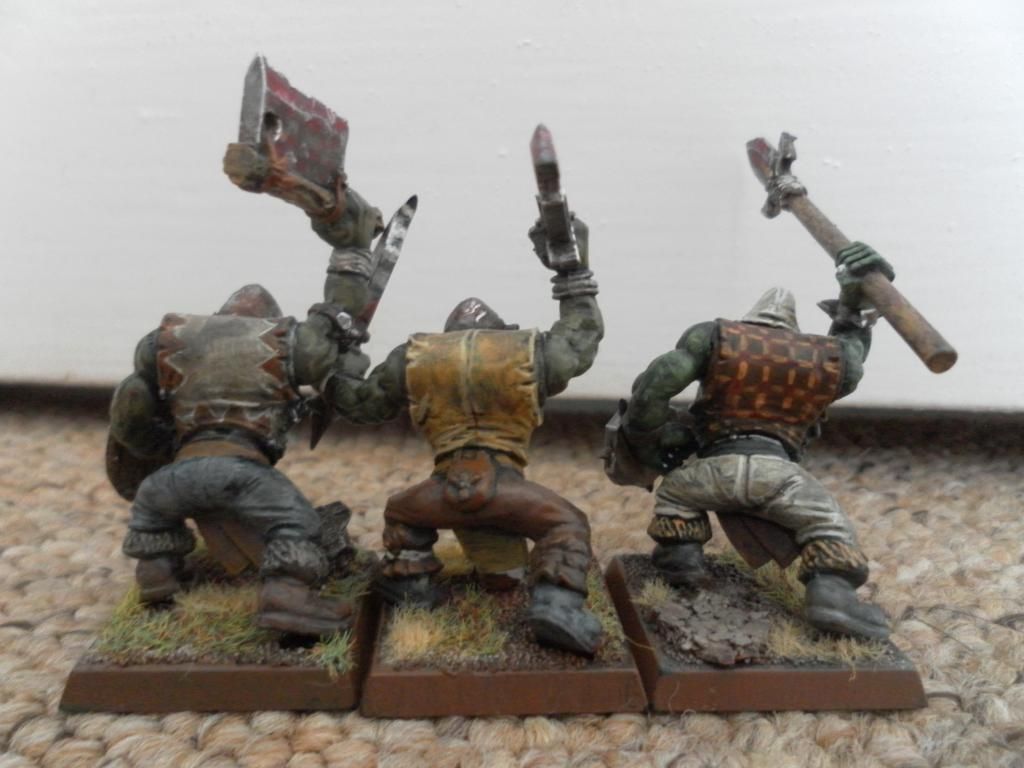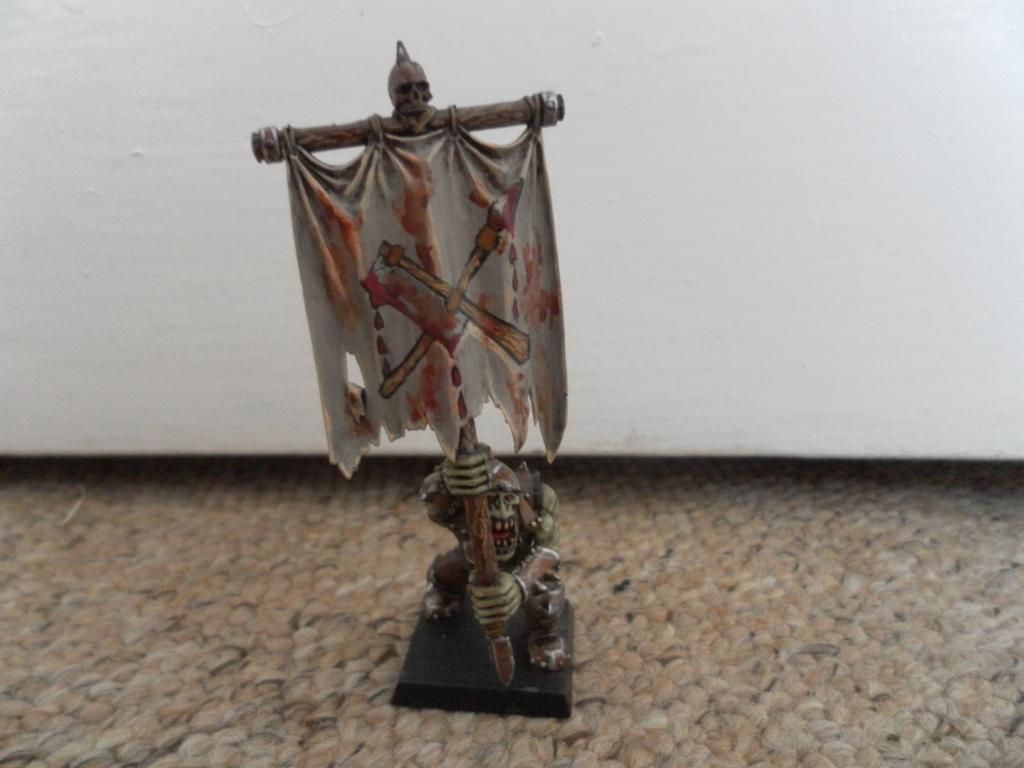 Now before I post this I would liek to say that the splatters on the standard are meant to be blood not fire which is kind of what they look like in the photo.
Also I've done a skin recipe for the standard guy in case anyone is interested.
Skin
Base: Gretchin Green
Wash: Green
Layer: Gretchin Green
Layer: Camo Green
Highlight: Nugling Green/Desert Yellow
Highlight: As above w/ Bleached Bone
There you all go hope you enjoy and that its in the right place (please feel free to move it mods if its not).
Waaaaaaaaaaaaaaaaaaagh!
Gornak/James