(NOTE: This is the first three updates copied from another forum its posted on hence the line breaks)
Now my style used to be very clean and bright with bold colours but the more I looked at it I decided that a more dark and gritty style appealed more and more to me. Then a couple of weeks ago I sat down and painted up a 40K Ork Nob aiming for a John Blanch style paintjob. I'm not sure I achieved that but I was actually quite happy with the results. I've also discovered that the drybrush is my best freind and have taken up painting exclusively with a small, medium drybrush and stippling brush. No neat crisp lines as I feel that they ruin the look that I was going for (this will probably be suplemented with a detail brush for banners though).
So anyway heres the 40K model that has menat that I'm goign to comopletely repaint my O&G army.
Anyway fantasy wise I'm working on my Black Orcs at the moment. However fluff wise I'm seeing these not as another breed of orcs but rather just the next step up from Big Un's. As such their armour isn't pristine like the Black Orcs and there isnt any black at all on it. This also meant that i could go to town with blood and gore on the model as I see orcs being bloodthirsty creatures.
Colour wise its very muted with a pale green and lots of blood (yes thats what it is covering his shoudler pads) being used to accent the mass of armour. Not exactly pretty but much more realistically gritty in my opinion.
'Right' I'm now off to round up some more of dem lads so enjoy da pics or we bash ya! K?
---------------------------------------
Not really a update guys just wondering about your opinions on whihc Warboss model I should use. Bascially I have two made up to represent my Black Orc Warboss Gornak (Not that hes a actual Black Orc due to the fluff he's jus natured like one and will use Black Orc rules) and can't decide between them.
The first is the Black Orc warboss with a different head (ironically they both have the same head). I like the model and like the feel of the weight of the metal but am still wondering not sure on him being armed to da teef.
(Ignore the paint job as well that'll change)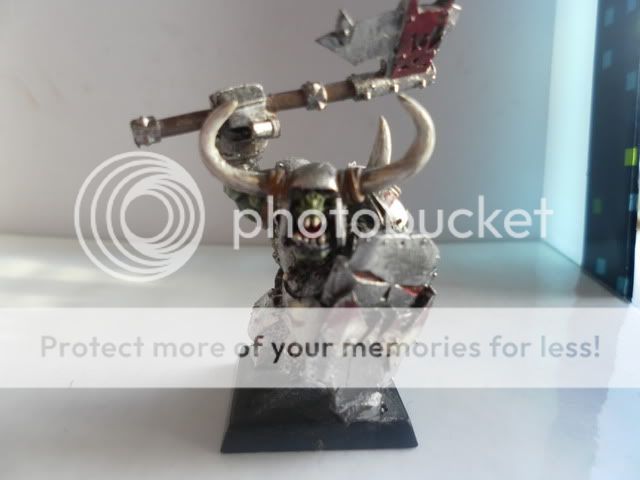 The second is a Warboss made from the Warboss kit a well as a few extras. He's definetly armed to da teef and will have a sheild as well when finished. The pose isn't amazing in my opinion but I'd still be happy to use him as a Warboss.
So yer I was just wondering what you guys think.
Waaaaaaaaaaaaaaagh!
Gornak
---------------------------
Well I've finished (accept the bases) more of Bloodtuf's Gore Boys (the name for the Black Orc regiments) so I thought I'd take a small group shot of progress so far and also a few close ups of Bloodtuf himself.
Group shot of what I've got painted so far (lacking basing)
Bloodtuf himself. Wielding a huge axe and a more blood spattered armour than his boys hes the leader of the Gore Boy's and one of Gornak's trusted (for a orc anyway) bodyguards.
Hope you enjoy the progress. As usual comments and critiscms all appreciated.
Waaaaaaaaaaaaaaagh!
Gornak