The world of Zephyrus is beset by war. Her people and territory have been viciously torn into various factions. The Imperial Loyalist bent on reclaiming what was once theirs, Chaos rebels trying to gain vengeance for past crimes, fish'ead separatists eager for a new path, Craftworld panzee bent on protecting their way of life, and the infamous Ork hordes willing to smash anything in their path. On every front, aircraft take to the skies. Their mission is simple. Buy victory at any price.
Do you have what it takes to survive the war torn skies of Zephyrus?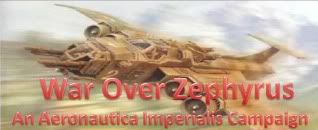 The
War Over Zephyrus
is an online campaign for the
Aeronautica Imperialis
game system. Even if you have never played a game, donít own the rules, or donít own an
Aeronautica Imperialis
miniature, this campaign offers you a way to participate. The
War Over Zephyrus
has room for all levels of pilots.
To learn more simply follow this link to the main
War over Zephyrus
page:
http://z8.invisionfr...p?showtopic=653