Greetings Waaagh, I decided that I would finally start to contribute to this site and come out of the shadows. I have been stalking these forums in silence for a couple of months while I have thought about starting my ork 40k army, I have to say the work I've seen here in the mek garage is amazing! and I would lie if I didn't say that I wasn't influenced by you guys. Well so I decided that I would finally post some of my conversions and let you all tell me what you think. So lets get KROMPING!
First I like to start with some back story if that's cool!
Kanz sat in a bar holding his fungus brew in his hand, Da boss was starting up his Waagh and wanted da strongest meanest nobz that could be found! So here was Kanz listening in dis pathetic bar on this ork held home world listening to every panzy boy Nobz wanna be tell him why he'z was DA BEST! for dis Waagh. There sat across from him currently a little runt of a nobz.
"I be'z da baddest nobz you see! here! Dis fighting scar'z from booming up a Impy Tankz!"
"Datz no scar! you Grot!" Said a deep voice from the back of the bar "Datz probably from a boom'd Grot Boiler nuffin more!"
"Dis is A TANK SCAR! ooz said Tat?!?" Screamed the nob across form Kanz
" Ey Diz, MOVE Grit unless you wantz a real scar! across Yr'z Neck!" Then a large metal fist banged da table as a half ork half machine came into view. The ork jumped out of his seat and scuffled to the door. "Hur Hur Dat's what I'z thotz." Another cybork came into view and sat down next to the previous. Des both looked like proppa fighten nobz.
"Who uz?" asked Kanz
"I'm Gearz and Dis is Tinfaze!" - said the ork on da left.
"Hur Hur, tinzfaze Wat kinda na..."
the other cybork held his slugga to Kanz skull and let out a static growl from his voice box.
"Wez call him tinzfaze ca's few waaaghz back our ladz were fighting them tinz boyz and tinzface took a green gause shotz and melted his faze off, but da doc stapled it back on and he took dat tinnies ead." -replied Gearz
"Hur Hur" crackled Tinzface.
"Dis is a story I'ze wantz to hear! er' next round!" At that Kanz grabbed da grot server and picked him up by the back of his head slamming him face first into the table. Kanz scooped up the bloody teeth and handed them to the server.
"Der, next round three impys! Hurry upz youz Gummy!" the grot scurried away. at that there was a humm of alien technology and tinz face was pulled off his chair, the scarab that now acted as his foot started to glow green and scurry towards the door. Tinzface pulled out his slugga and sent a round through the little tin'ead climbed himself back into the chair.
"hur hur, hiz foot das nat now and ten, it'z always a good laurf!" chuckled Gearz.
Then the grot server came back with three standard 'umies helmets filled to the brim with fungas brew.
"Hur Hur, here'z da' drinks ladz! now tell yourz story!" chucked Kanz.
OK well after any further a due here is my first cybork tinzface.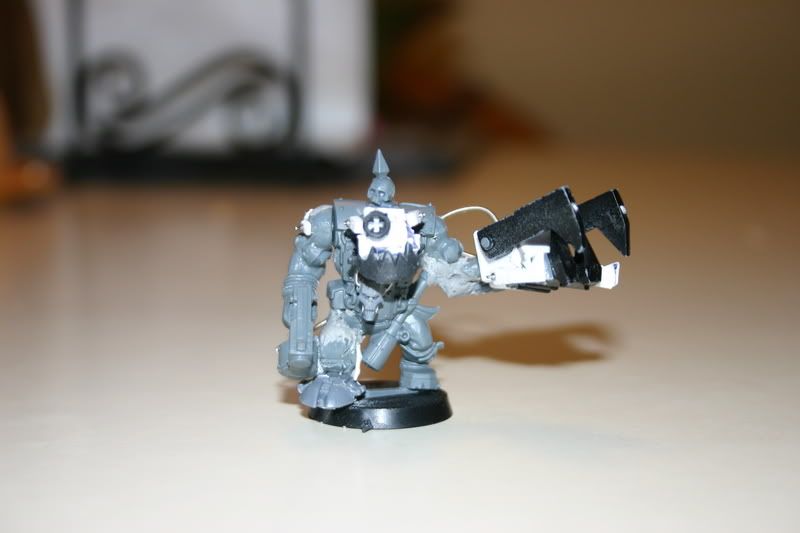 ok first look you probably notice the face, and can probably tell it is heavily inspired by
DonUlfo
cause I think he does great work.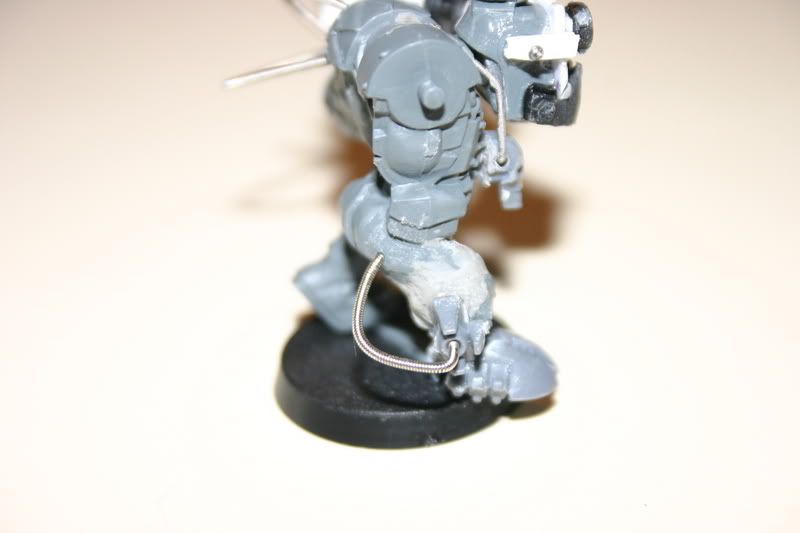 Then I got the idea for his leg off of
squiggoth
warboss which is very proppa. However instead of beakie or beakie parts I decided to use tin'ead, cause one of the guys I will be playing against plays them and my boys will have lots of parts to loot from them after game, I hope. Well anyhow I got 1 done out of a squad of 10 so I guess I should get back to it!
Well see you all around!