After ten years of getting shelled, fragged and powerfisted to pieces (and his bosspole has snapped as well!), I felt that my trusty old warboss Lobo Badgutz was in dire need of a new model. This decision was off course completely spontaneous, and had nothing to do with the release of some new Plastic Warboss.
I plan on making the new Lobo actually look like a Deffskull, since the old Lobo was painted when I had just started playing Orks and he was basically a Snakebite Warboss with a slight Braveheart twist (hence the blue warpaint and the name 'Badgutz'). It took me a few months before I realised that Deffskullz were way cooler than Snakebites and wore blue paint as well.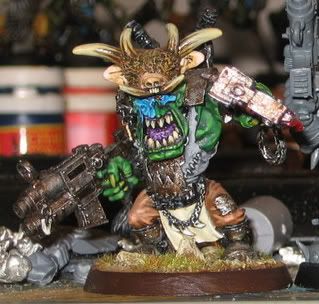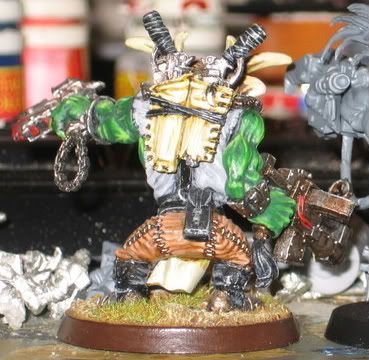 New Lobo will be having a Cybork Body; I felt that I was kind of appropriate after all the times he's been kicked, shot, chopped and severely killed in the past. Apart from his mechanical left arm, I'm using that cute new iron-gobbed Nob's head on him (love at first sight, that head) and he'll be getting a kustom bionik replacement for his right leg.
So that's what I've been working on tonight .... I wanted to get a bit of a
loota
theme going on by crafting his leg from a Beakie's leg like Orrik da Red's, but that turned out to be way too small since the new boss has such beefy legs. So instead, I decided to make a foot from an old Termie's power fist and make the leg itself from a shoota's drum barrel. Those bits glued together turned out to be almost exactly the same size and stance as the Warboss' knee, lower leg and foot. Huzzah!
So far I've rearranged the fingers to make them look more like toes/claws, added some small plasticard pistons in his leg, and added an exhaust to his heel. The place where the thumb used to be is now hidden by a big screw, not sure if I should add one on the other side of the foot as well.
I've also got to figure out a way to get some convincing worky bitz in his calves, but since I've just sliced open my thumb I'm not going to do any more converting tonight .... it's beer time instead.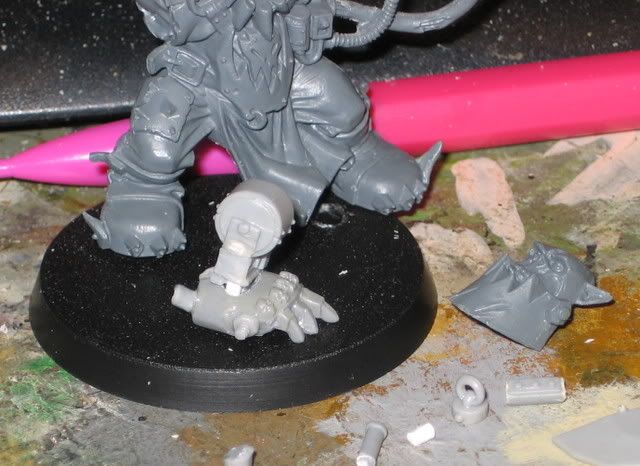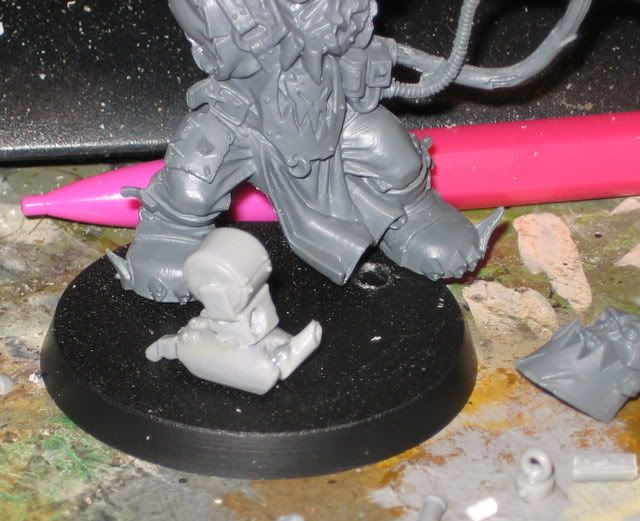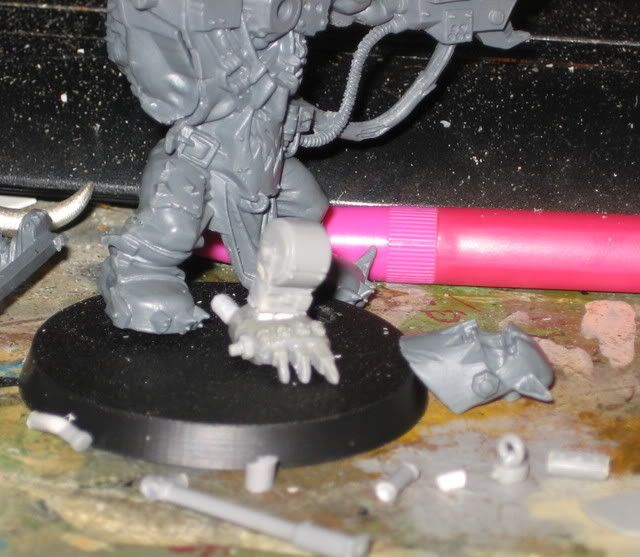 Oh, and new Lobo will be having a wee little Attack Squig as well.