I have been working hard the last few days, making my own Flash Git kaptin (count as Badrukk), Flash Gits, and also something special... first the gits and the kaptin.
The Gits whilst WIP.
Started painting. I must point out that they are actually not Bad Moons, but unproppa Blood Axes with desert camo!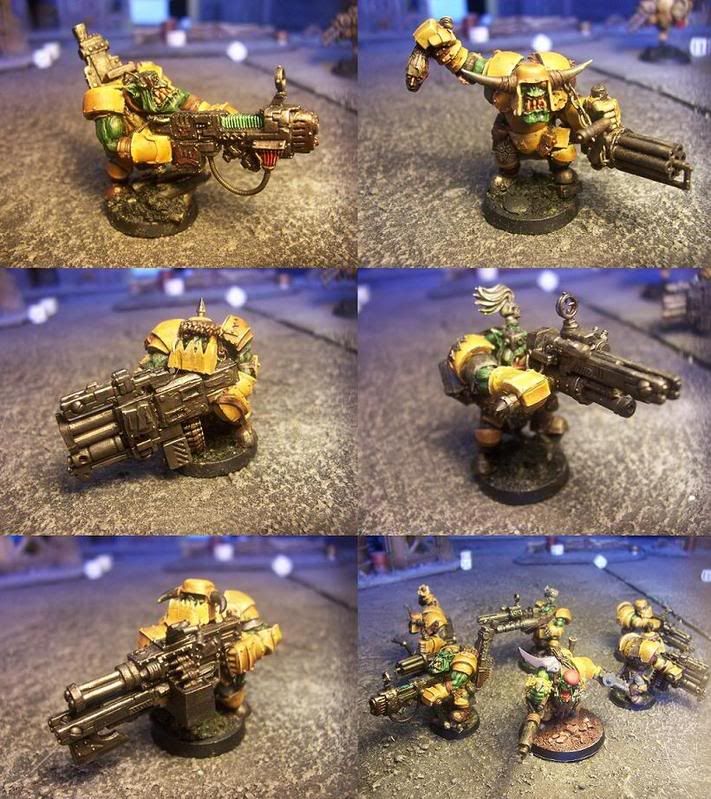 And here are some pics of the good kaptin himself. He started out as a Big mek (WIP thread can be found
here
).
Oh how I have tried different desert camos on my boys. In the end, a simple beige/yellow was the only one that worked. I have read somewhere that the GW studio doesnt paint camo on their infantry either, only the tanks. Its to small on infantry and makes them look strange (kinda the point of camo, but not good for the tabletop).
So, what do you think about my blork Flash Gits?
And, I have also made something spechul. After getting totally krumped by fish'ead Battlesuits, my few surviving meks started working on battlesuits of their own! Orks never let a good idea go to waste, and battlesuits are a really good idea.
So, I checked through the codex, and the deffkopta entry works equally well for an ork battlesuit in my humble opinion. Aslong as the suit is beefy enough atleast.
Also, The bigbomm entry was too good an idea to pass up on a suit-like model.
Anyway, this is still PIP, but im quite happy how he turned out. There is a plastic Blork under all that plasticard. I will build 4 more, for a full unit of 5.
Please feel free to give modelling advice, since I will build more Gits and Deffsoots.