Ahoi again!
i was asked to do a tutorial for my rokkit launchaz... ( never expected this ... )
here it is...
first step: stuff you need....
- PlasticRod: 1mm( rivits and trigger) and 2mm (PR)
- Plastic tube: 3mm ( best would be with a 2mm hole) (PT)
- PlasticCard: 1mm ( gunshield, ramp, hand protection,...), 0,5 mm not shown ( band around the energy thingy) (PC)
- Guitar string
- package-band or something with structure... ( i used a metal structured one....)
- Sprue ( the fat one between two regular sprues...)
- the ork Axe Arm
- Ammo ( rokkit from ´umie tankbitz work proppa) i choose a sharpened 5mm Plasticrod wit some accessoires
second step: cutting in right size....
1st. row:
- PT about 1,5mm ( a bit squeezed)
- backplate about 8x 1,1mm (package band,....)
- Frontplate 9x1,3mm (PC 1mm)
- spikes cut from 1mm PC
- 1,5- 2mm length of the 2mm PR
- stripe of 1mm PC about 2mm wide (length will be fixed by the ammo type.... )
- ammo
2nd. row:
- PT: 1,5mm, 5mm
- rivit from the axe
- dice from sprue ( just cut a bit 2,5x2,51x1,5)
- PR 1mm: about 4mm (trigger)
- hand protection: use the 1mm PC, cut about 1 cm and band after 3-4mm
- PC 1mm: 2x5mm (thingy on the top)
- 2x PC 1mm: 1,5x3mm (grey in picture)
- handle: 2mm PR about 2,4cm lenght and bend after 1,8cm
3rd. row:
- ring thing from the axe
- 2 pieces of the large Sprue about 1cm
- squeezed PT about 1-1,5mm
- Band of 0,5mm PC 1,5mm wide
third step: bring things together....
1st. row:
- backplate+ frontplate,
- add the spikes on the frontplate
- bend the stripe and cut it fitting to your ammo
2nd. row:
- slip over the 5mm piece of the tube till the bended place ( over the handle)
- slip over 1,5mm piece (end of the handle)
- glue the rivit with the 2x5mm thingy
3rd. row:
- glue the two sprue parts and cut it regular
fourth+ fifth step: get the form....
i think picture explains what to do.... just glue!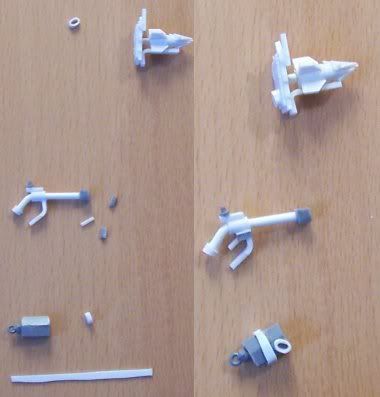 sixth, seventh and eighth step: time to finish....
- glue three parts
- add rivits ( cut from 1mm PR)
- add Guitar string
- DONE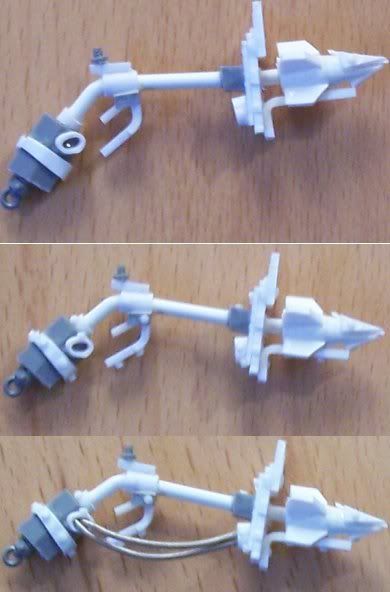 and it should look like this on a Mini....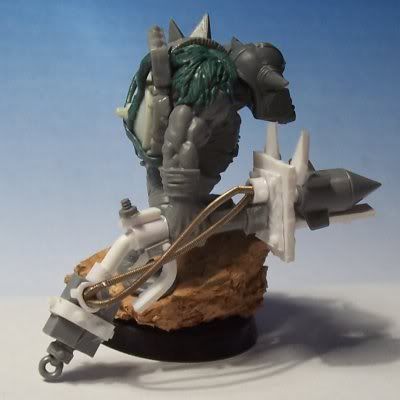 Hope you enjoyed....
C&C welcome,
Greetz
Da Mek