My comp entry, A scratchbuilt looted baneblade turned into a battlefortress.
First, the fluff:
The Adapteus Mechanicus outpost was located at the bottom of a valley, surrounded by finished rhinos and other vehicles. The dome of the factory was evenly plated with steel, and riveted to an incredible level. Within, hundreds of servitors toiled to make the newest construction, a baneblade.
Back beyond the curve of the valley, twenty Orks waited. The Kommando boss was instructing them on the plan. "Roight, herez da plan. Get through the piles of tankz quietly. Sneek into the faktoree, and kill da cybork'd up humies in dere. Then, I plant da bomm, and we take as many tankz as we kan. Undastood!" The boyz understood. At that moment, Bigmek dakka strode into the middle of the group. "It's time," he said.
The Boyz sneaked through the bushes, preparing to strike, until one boy stood on a las trap, and five heavy bolter turrets sprung up from the building. "Waaagh!" the whole group screamed as they rushed into the building, losing only six orks to incoming fire. The boyz then pushed and sliced their way through the unarmed servitors, as BigMek Dakka and the Kommando nob axed the Techmarines and Techpriests. When the Kommando nob reached the air vents, he shoved Da Big Bomm into it, and ran for cover. Simutaneously with this the BigMek reached the baneblade, and jumbed into it, shouting for his boyz to follow. The many boyz scrambled onto it, and the Kommando jumped on at the last minute as it drove out the door. The area was wiped out in an almighty bang, leaving only four rhinos and the baneblade in a useable manner.
Bigmek Dakka looked over the Baneblade, and saw it's turrets were missing, and got to work.
Here's the rules: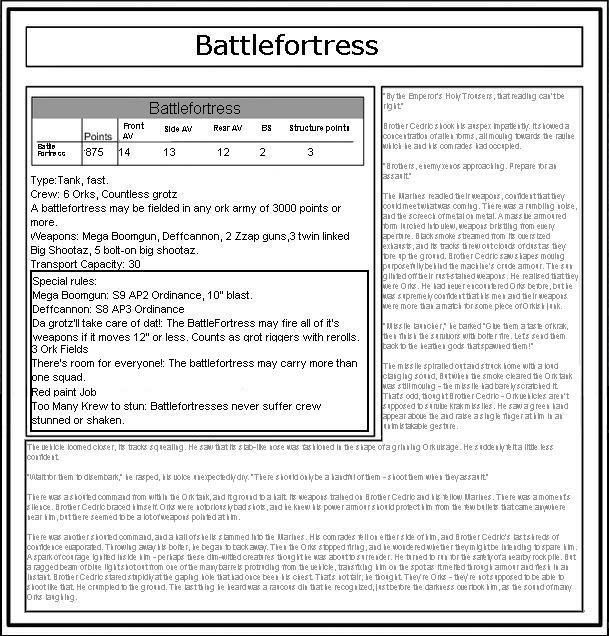 EDIT: Pics:
Some modifications I've made:
Zoom on the scaffolding: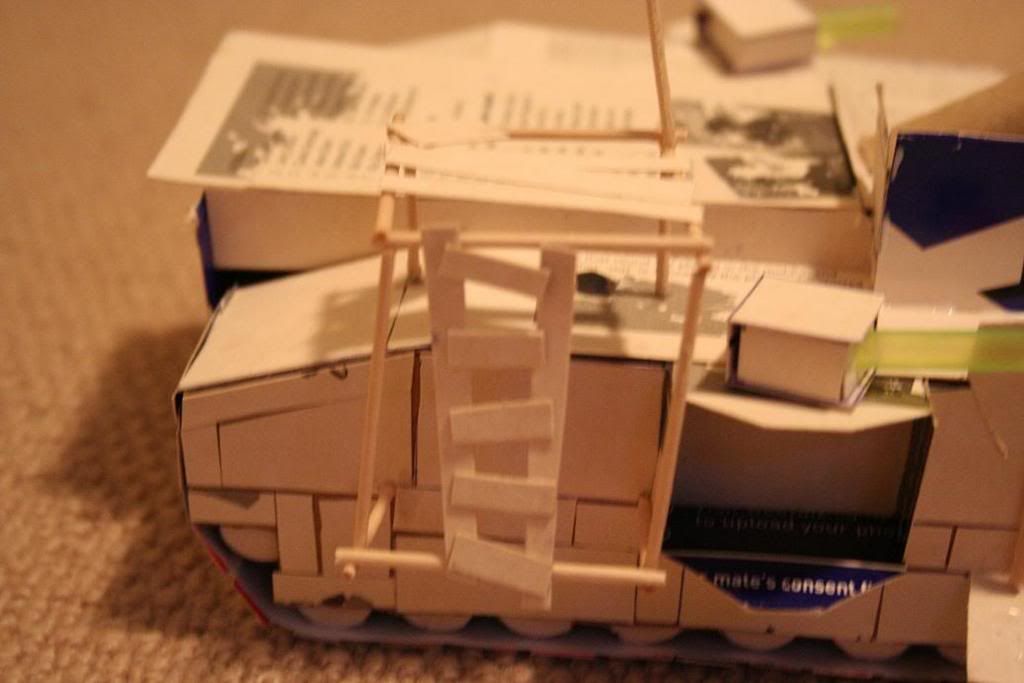 A few extra armour plates plus a platform that's collapsing, will have a grot hanging for his life:
My scratch-built Zzap gun:
And the Battlecannon:
The rest of the images will be lower down the page due to the limit on pics per post.
Mekboy dakka