Right. I've built two of these already, and it's sharing time. Here's the one I've got painted. The old ones were made of 2mm so these will be a slight bit more thin.
Over the next short while I'm going to build another one to complete the three-plane squadron.
On game use: VDR guidelines: Small flyer, armed with three bombs, two combi-rokkitz (to represent small missiles and shootas on wings), one big shoota.
Now, one of these (unarmed and unpiloted) takes up a 5x9 cm rectangle of plasticard. The plasticard should be cut up like this: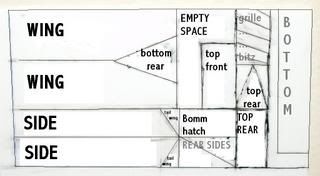 (click on that to see the really big pic)
That's a picture of and actual piece of plasticard taken at a slight angle, so it's only a rough guide.
How to dissect it (and how big the lines really are):
Start with 5x9 cm. Use the picture and these instructions as a guide.
sides and tail wings:cut out a 2x5 cm rectangle (the one including both sides and the tail wings), cut it in half and remove the tail wings (height of triangle is one, base 1.5).
wings and bottom rear: cut out a 5x3 rectangle including the two wings and the bottom rear piece. The base of the bottom rear triangle is 1.5 cm, the sides are 2 cm, the height is 1.9 cm. Once that triangle is removed, cut the remainder in half and you have your wings.
grille bitz, top rear, wing supports(the empty little triangles): these are all on a 1x5 cm strip. Cut it out. Don't cut the top rear bitz apart, you don't have to. The triangles are like this:
this is one cm, the tip of the triangle divides it into two 1.5 cm segments
|...|...|
|..|.|..|
|.|...|.|this side is 1.5 cm
||.....||
one cm again
sorry, but that was the easiest way to explain. The grille bitz can be any shape you like as long as they're cut from the rest of this strip. They form the grille. (oddly enough)
rear sides: 1cmx1.7cm rectangle, cut in half diagonally.
bomm hatch: 1cmx1.7cm rectangle.
top front: 1cmx2cm.
bottom: 1cmx4.5cm
leftovers: find something to do with these. Make glyphs or something.
I hope you understood all that, next update I'll cut it all out and hopefully it's a bit more clear.