Some fluff first (skip this if you want and go directly to the pics
):
- Ahoi, ya lazy grot! Da Big Mek iz dere? Tell him dat Dokta Arrrab iz here!
- Yessir, ole Weeny Legz iz in da back of da scrapyard, I will take you dere...

Both the Mad Dok and the little spanna Grot walked between huge piles of scraped metal and looted parts until they found Weeny Legz, the Big Mek, working on some sort of machine, sitting on his armored and tracked wheelchair.

- Weeny Legz, gud ta see ya - said the Dok with a big toothed smile - ya know, my offer to replace your legz wiv some brand new bionik ones still stands, only a couple of teeth...
- Nay, I prefer a bullet thru ma head than laying on your bench, Arrrab! It will hurt much less, and will be free! - said the Big Mek, smoking his fungus-weed pipe and turning his wheelchair to face him - What brings you ´ere, ole´friend? I iz really busy...
- Yeah, ya know, da latest news after da last scrap we had wif da oomies...
- Yup, pretty bad... I saw Kaptin Hook taking dat Demolisha round squarely on his chest... If Krabz did not take the lead of da Boyz in dat battle and krumped da Oomies we would be feasting wiv Gork and Mork by now... I told da Boss not to take dat damned tank alone, but he wont lissen ta me... Now he iz squig meat... Grinded squig meat, ya know... RAR RAR RAR...
- Errrm, yes, da Boss was shot pretty bad...
- Pretty bad?!?! He exploded! Now Krabz iz fighting da other Nobs to see who will be da new Warboss ov´ da OONF, and I bet all my teeth on him...

The Dok smiled again with a mischiveous grin at the Mek - Well, Weeny, what if I told ya dat da Boss waz not krumped dat bad...
- Impossible! I saw what was left of him - or what was NOT left of him!
- Hehehe, you iz not da only one wif some tricks in da sleeve, Big Mek! Ya know, after a battle my orderlies bring to me all the - how can I say - "spare parts" they can find for some ekxperiments... In the middle of the pile I saw what was left of da Boss, and I worked fast... Rememba dat Beakie Dread you looted some moonz ago and dat I bought from you? Part ov da machinery dat keep da krumped beakie alive inside it was intact, so I wired da Boss in it, and by Mork, he awakened!
- WHAT?!?!?! Ya iz telling me dat Kaptin Hook iz alive?
- Well, sort of...
- Gud news, Arrrab! So I guess you iz 'ere to ask me ta make a new body for da Boss? He must be eager to get to his feet again to take revenge ov da oomies! I have diz brand new Mega Armor 'ere dat wif some modifications...
- Hummmm, no, diz will not work...
- Why not?
- Ya know, da machinery to keep him alive iz big, and needs a lot ov powa to run...
- Oh, I see... Ok, so lets wire him in a Dread! Da Boss will be happy wiv dat! If we can wire a Grot to a Killa Kan, we can wire da Boss in a Dread...
- Hummm, when I say dat it needs a lot ov powa I mean a REALLY lot of powa...
The Big Mek gave a puzzled look at Dok Arrrab. - How much?
- Well, roight now I´m using the Plasma Reaktor of one Battlewagon...
- A WHOLE PLASMA REAKTOR ONLY TO POWER THE LIFE SUPPORT MACHINERY?!?!?!
- Yup.
- By Gork, you nutz, Dok! To make a new body big enuf to accomodate a plasma reaktor for the supporting machine AND the other engines required for movement it will have to be the size of a small Garg... - the Big Mek stopped in mid sentence as a sudden flash of understanding stroke him, followed by a huge grin - Ooooooh, I see...
- Hehehehe, I always know dat you iz a smart git, Weeny Legz... When you start?
- Roight now! - replied the Big Mek smiling.
------ END OF FLUFF PART ----
Well, my fellow Waaghers, after almost 4 months distant from my Orks (I traveled to another country due to work) I´m back with da OONF! And to restart my work I decided to take a big new project: make a Gargant for my pirate warband!
After much thinking (ouch...) on a design I decided to follow the steps (or stomps) of master mek Ein and take my chances on another "concept art" Stompa/Gargant! For the ones that did not know what I´m talking about, here´s the pic:
Well, I wanted to stick to this design as much as possible, making only some changes to "fit" this gargant in my naval/pirate army theme. Also I wanted to scale him up to make not a normal stompa, but something between a Supa Stompa or a fully sized Gargant, that according to Kr00za charts must stand between 25-30cm or 10-12 inches.
Well, enuf talk and some pics:
Unlike Ein, who started with the feet, I decided that starting with the head will give me a better sense of scale:
The lower jaw: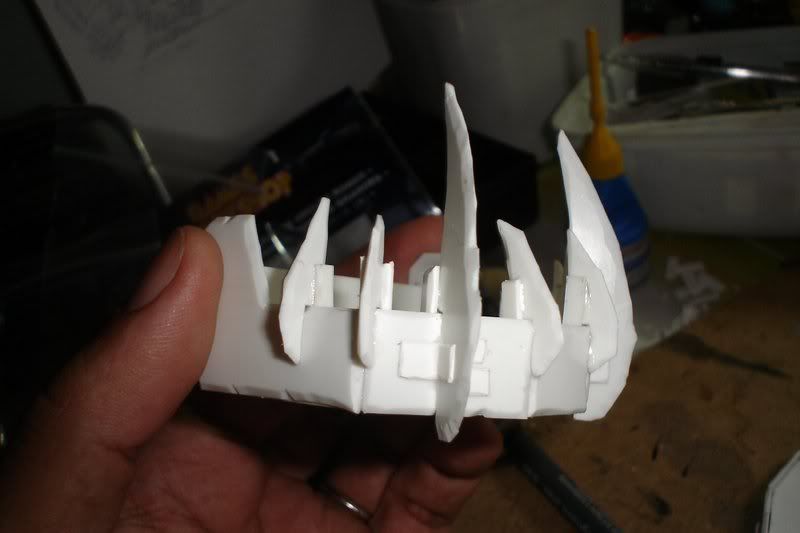 With a Barry in his Gob to give a sense of scale: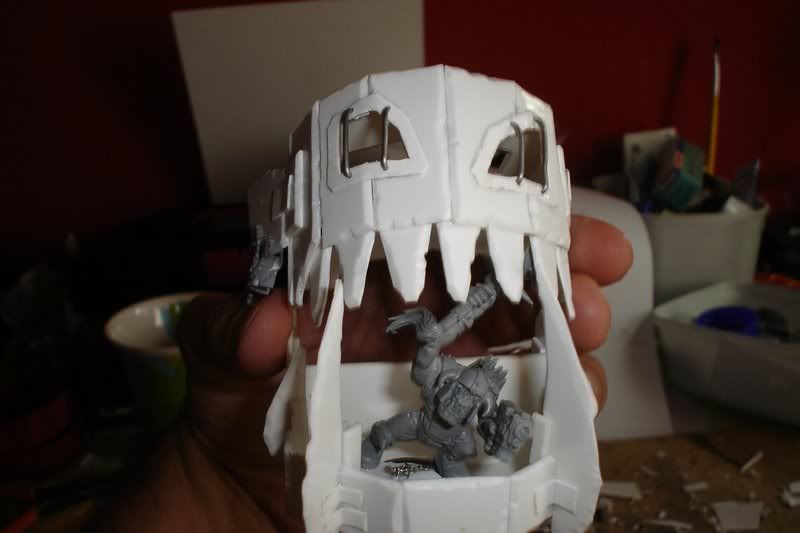 Detail of the ear, with a Techmarine shouderpad and an Aquila Imperialis as earrings (it will be a pirate Gargant, after all)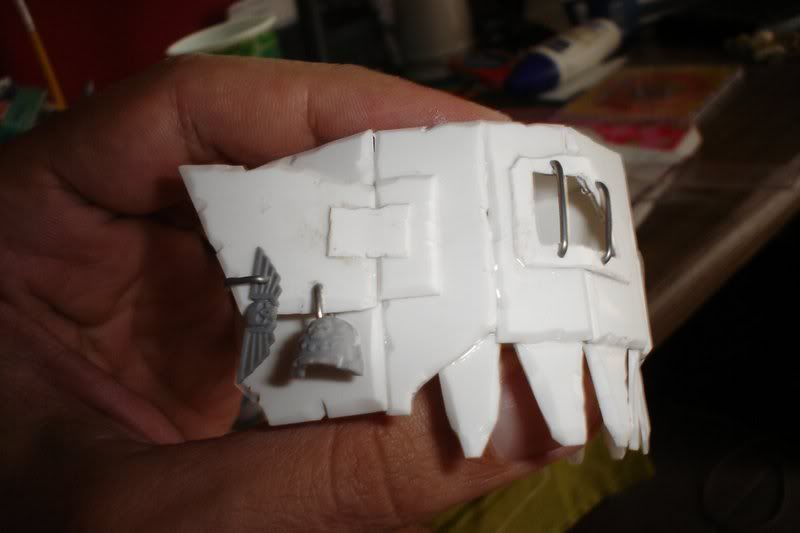 Well, as for the fluff I put in the beginning of this post, my idea is that the Warboss of da OONF! is directly wired in this Gargant, so probably I will end up with the biggest Warboss ever made!
I plan to make the chest front plate removable so we can see the remains of Kaptin Hook (my "deceased" Warboss) and his life supporting machinery, making also some parts of the interior visible. I will be using LEDs to light the chest cavity, the head and the plasma reaktor in his back. And the other modifications I plan to make over the concept art include transforming one of his feet in a pneumatic pegleg, changing the power claw into a gigantic Hook and putting a pirate hat over the head (yes, someone had to make a Gargant with a pirate hat - Rarrrr!).
That´s it for the moment! I will post some WIP pics later (no time for this now) and will keep you updated on the progress, since I will need a lot of advice, help, critics and suggestions from you guys!
Cheers,
Da Goff Rokker