I was looking through the latest White Dwarf and saw an add for the painting competitions that the hobby centers are going to be running. I have been thinking about putting my Warlord in regular 'Eavy armor and thought that this might be a good time to do it.
I am going to try and make this guy look like my original Warlord only without the mega armor.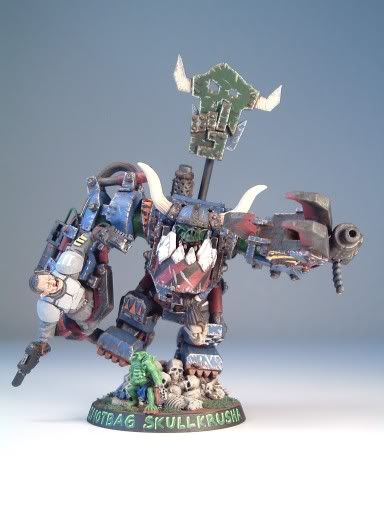 And since the GW stock warboss' are fairly small compaired to the Gazkhull model that I based my original Warlord off of, it's going to take a crapload of converting to get this guy big enough. I had to chop off the legs at the knees so I could lengthen them and I'll be cutting through the midsection so I can add some height there as well. After about 2 1/2 hours of cutting, grinding, sawing and Dremmeling, I've gotten this done.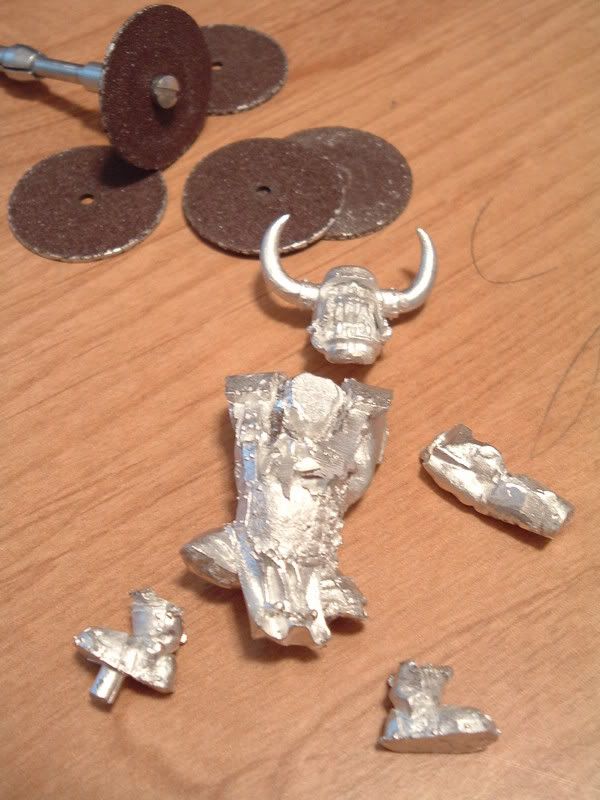 In the background are the 5 cutting wheels I went through just to cut the legs off. Plus I drained both of my, fully charged, batteries in the process.
I still have to file/sand/grind off all of the crap on the front of his chest. The plan is to have him shirtless with some straps holding on his shoulderpads and choppa that will be attached to his back. It might just be easier to sculpt the whole torso.
I'm going to have him holding up a space moron by the top of his head, I'll have to sculpt that hand, and his other hand will be a powerclaw.
I've only got until the middle of April and I'm already sick of dealing with the pewter. Oh well, we'll see how it goes.
I'll post more when I get more work done.