Right, some people think my yellow is great, I don't but nevermind.
So here's a few simple steps that any git can do.
The following applies to all models, but I'm usign a vehicle as an example as it's trickier to get it right with all those big flat areas.
First, get your model:
This is my little gun trukk I made.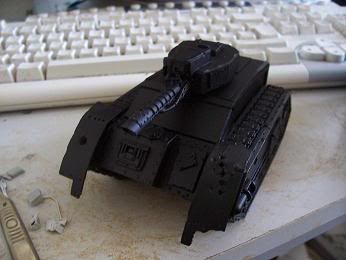 Then apply a layer of white.
It does not have to be neat!
You can be neat if you want, but it's not important really. Getting the white into all the cracks and holes is.
Notice that it looks appaling, it's streaky and just horrible. White paint (all paints really) doesn't adhere to spray undercoat well.
So we apply a second coat.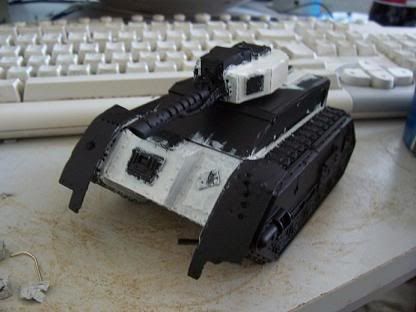 The second layer sticks to the first much better and this allows you to go over the less covered areas.
I'm not a great painter, so my pictures aren't a basis on what you should expect.
Now we apply the yellow (again, no need to clean up yet or be neat).
I used sunburst yellow. Bad Moons yellow is too light for a base colour for my liking.
Getting a smooth coat is important, so you don't have to be so anal about getting the yellow into all the tiny cracks as we were with the white. The washing step will sort it out.
Now we claen up. Here you do need to be neat (in my opinion a neat model is much better than a highly detailed messy one).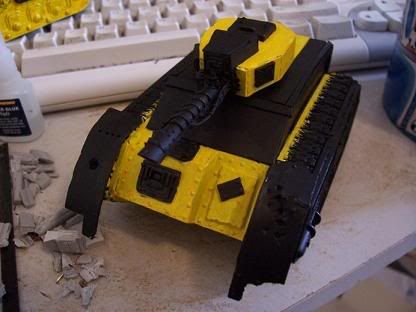 Note that I forgot to do the tracks. This is intentional, as I should have covered them or removed them before hand. I later put masking tape over the body and went nuts with a big brush, doing them at the same time as the rest of the clean up would have been a nightmare, they are way to fiddily.
Now the wash. I use a mix of 4 parts yellow wash and one part brown wash.
Don't use black wash
. Just don't, it's terrible.
In this case I just slapped it on all over. If you want a cleaner look, just put it in the cracks as I did on my
battlewagon
.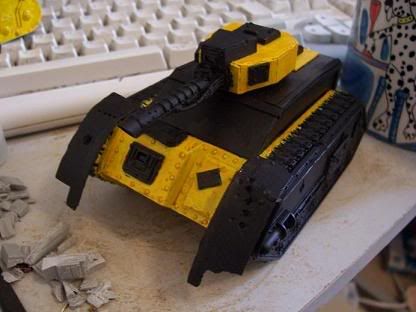 And that's it really. Highlight if you want.
I did this guntrukk along with some others in a big vehicle session, so here's some other examples: