Here I am again with another vehicle for da OONF!, this time "wif some powa comin´ from da skyz!"
I present you with "Wazza Wizza", da Lukyest Air Grot! This lad will represent two Fast Attack entries in my KoS list: a Fighta Bomma Raid and a Mek Deffkopta with KFF and Super Stikkbombs. I will write some fluff for him later and even make an entry for Gashbad´s Big Race on the Arena Forum...
Now for the construction steps so far (just to make some suspense!
):
I´ve started with a Polikarpov I-16 kit, but using a 1:72 scale instead of the 1:48 one used by TheSnake (congrats to you, Snake, your wonderful model is the inspiration for mine!). It is made by an Ukranian company, is dirty cheap, very simple, very small, coming in one single sprue. Here´s a view of the box: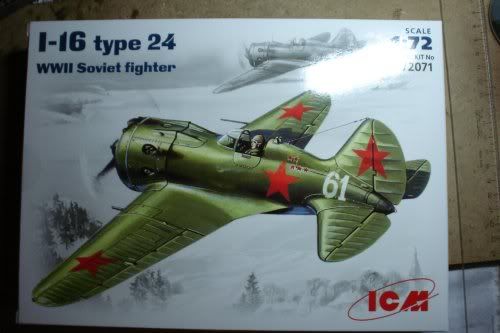 With my scaphandrist grot as a Barry to show the comparative size of the hull:
The first step is widening the cockpit opening to fit the Grot inside it. The plastic of this kit is very thin and cuts easly. If someone uses it, just a tip: this plastic melts VERY easly with poli-cement, so take care while glueing it!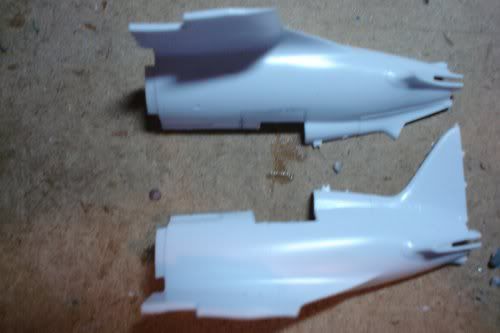 Then you proceed with the assembling of the kit as the way it is meant, in a very straight-foward way, since I think the Polikarpov is has a very Orky feeling in it (well, Groty feeling at this size...
The thing is sooo damn cute!).
I haven´t taken much pics of this process since my camera´s batteries went down, and when recharched it was quite finished. The Grot is already glued in its place (which I regret later, since it was a pain to model the rest with him glued in place! Very stoopid of me) over a small piece of plasticard that runs perpendicular to the fuselage. The Grot has a Night Gobbo head with the hood tip shaved, some googles modeled with GS (I HATE GREEN STUFF!), one hand with a spear tip cut off to make the manche and the other one holding a Gorkamorka Kustum-Double-Barreled-Slugga. Note that in one pic there is already a plasticard support for the engine, and that I´ve cut the round tips of the wings: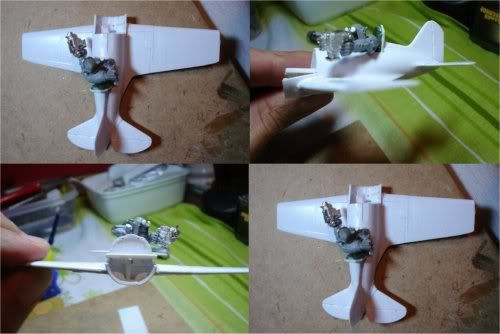 That thing will need a hulking big engine, since I will keep the WWII look of it and use propellors instead of jets. So I scratchbuilded a V6 engine for it - in fact a V4 - remember, this is a weedy grot plane! If you want to know how I´ve made it, please take a look on my other post -
Scratchbuilt Engines 101
.
The propellor that come with the kit is very weedy, so I made a new one out of plasticard. Very straight-foward approach here too: cut the blades from 1.5mm plasticard, glue them to one of those round "things" that come in the sprues (the plastic feeding tubes to the mold), some rivvits and then glue the thing to the plane front engine cover: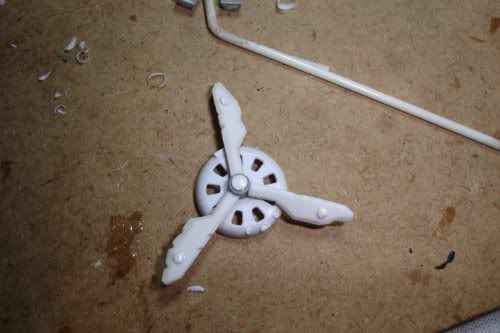 With the engine in place, it´s time to cover the wings with platicard for the armor plates. For this I´ve used the thinner plasticard I have, which is 0.5mm, but it is still very stiff for such tiny bends. So I´ve cut larger lates, glue them on top of the wing and waits for it to dry: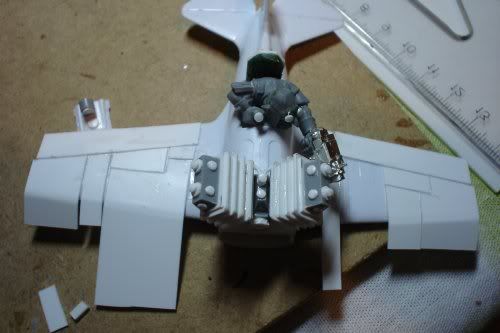 After one hour or so, I put glue on the inner side of the plates and then bend it to place, around the wings edge, like this (note the sloppiness of the work, with lots of glue spillage):
With everything settled and the glue dry, I sanded everything (lots of glue fingerprints) and put some other plates at the belly to hide the crappy plating work on the underside (the landing gear doors and some glyphs with Wazza Wizza name):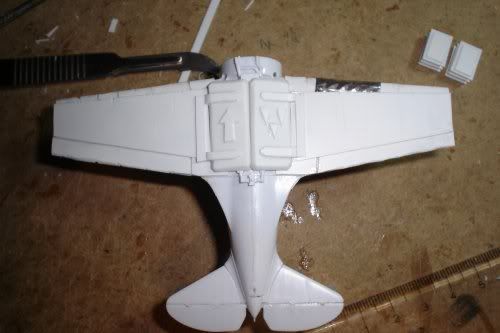 ... To be continued in the next post (sorry, too much pics!)