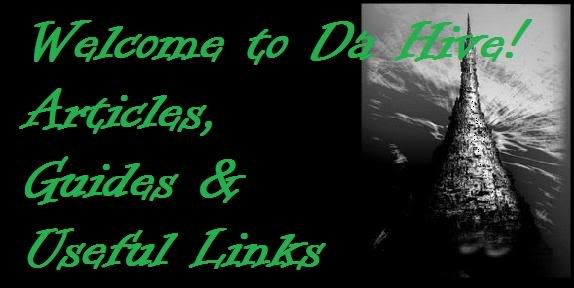 December 09: A few new sites ferreted out by fellow Necromunda Enthusiast waaagh5744. Thank you my firend, you probably found the best two links this section now displays!

Just a small note, but I'm still working on articles and such to add, just the Rebel Grot Codex has held me back a little.

August (20)10: After a quite considerable hiatus, the project is back on. Updates should increase in frequency a little bit. The first of my rules add-ons "My New Best Friend" has been added.

Greetings Mortals,
I am currently working on an innumerable collection of resources for the Necromunda Player, and they will be currently exclusive to Da Waaagh. These Articles, once they are up and running, will hopefully enhance your experience of Necromunda, and provide you with a large amount of information to help you get the most out of the game.
Amongst these articles there are introductory articles featuring information about the game, specific tacticas and guides for many aspects of the game, modelling and terrain guides, extra rules and scenarios.
As this thread is updated, I will make posts in this section containing tacticas, articles, homebrewed unofficial rules, and such – with the files or links to these Articles and Guides can be found here.
Necromunda Articles
(Currently I'm working on a fairly in-depth introductory article)
Gaming Tacticas
(Currently I'm working on a starting a gang tactica - more specific tacticas will follow afterwards)
Modelling Guides
(I hope to show you all how to model stuff GW no longer cater for with other models, particularly from GW's main core ranges)
Dim's Unofficial Necromunda Rulez
Core Rules Additions
My_New_Best_Friend.doc
36KB
13 downloads
These rules are for permanently joining Hired Guns into your gang. Enjoy.
Gang Rules
Hired Guns
Monster_Hunters.doc
38.5KB
16 downloads
by Dim_Reapa
Ratling_Sniper.doc
44KB
10 downloads
by Dim_Reapa
Special Characters
Official Necromunda Resources
Here, I have attempted to compile some direct links for you to the PDFs available from the Games Workshop Main site, as they aren't what you'd call easy to find. Although many extremely good Necromunda Articles from the past are currently (and probably permanently) missing, this should at least get you started:
Necromunda Rulebook
Gang Roster
Enforcers
Ratskin Renegades
The Redemption
Skavvies
Spyrers
Links to Official Necromunda Resources Not on the GW Site
WAAAGH! Da Orks are in da Hive
This is the one, boyz and nobz. Follow the link to an uploaded PDF of the Ork gang rules from Gang War 1. A very excellent find, courtesy of fellow waaaghrer
waaagh5744
. I think this ere one goes without saying, but I'd like to quote the article's author Ross Flint (who is a bit older than sixteen years of age now!)
It is an undisputed fact that Orks sometimes attack (or inadvertently crash on) Necromunda, and their assaults on Hive Cities have been fairly well documented by the Administratum
Some More of the Lost Necromunda Articles
***VERY USEFUL LINK!***
Ferreted out by fellow waaaghrer
waaagh5744
, this is probably the largest collection of uploaded PDFs of Necromunda, especially as it includes a number of goodies that weren't uploaded to the specialist games site, stuff from White Dwarf, Gang War and Necromunda Magazines. Wish I found it first if I'm honest, but direct your worship for this feat to waaagh5744.
Some of the Lost SG Resources
***VERY USEFUL LINK!***
If you find there's something missing from the Necromunda Experience provided on the GW Official Site, then this link will fix your problems. This took a bit of finding, but it appears to be most of the missing PDFs since Specialist Games went down. Some still appear to be missing, but is otherwise quite comprehensive. This all comes from a smashing chap on Warseer, who has made these available. In particular the Wyrd and Outlaw rules should be the prized possession of all Necromunda players!

Backlog of Fanatic Online Articles, Courtesy of the Specialist Games Forum
This was a particularly useful find. Although it hasn't got much of the Fanatic Issues, there are a few useful Necromunda Articles dotted in there, also quite a few useful ones for other specialist games - might I also point out, a particularly interesting Inquisitor Rules Article from Fanatic Issue 96...
Other Useful (External) Linkz
There are a few sites out there that are trying to keep the spark of Necromunda Alive. I'm currently seeking them out, and ferreting out the most useful ones for your perusal.
The Specialist Games Forum Website
Yes, believe it or not, it still exists! Took a bloody bit of finding and makes for depressing reading, but its there. Maybe you might find some welcome news there, but it personally makes me cynical. Good to see it back though!
iNecro
This seems like a useful site and you can get some hits on some of the rules, particularly old Gang War magazine articles. Some of the links no longer work, and some of it is made by the site author, but there are a few very useful items here if you look hard enough.
Anthony Case's Necromunda Articles
Better known as Ant on the Specialist Games forum, this guy has been in the Necromunda fold for quite some time. His articles are excellent and worth checking out. He has his take on many rules and I am happy to report that he often desires a return to the older style of Necromunda rules (which pleases me greatly). His rules are tight and well balanced. If your existing PDF of some Gang Rules has resulted in hard feelings from your gaming buddies, you aught to seek out Ant's articles to see if he hasn't sorted their grievances out.
AN IMPORTANT NOTE: This thread is still very much still under construction, and over the next year or so I will be adding an awful lot to it. Rules, articles and modelling guides are my own priority, but I welcome any content from other members so long as its up to scratch. I know some Ork Gang rules are available already, but I'd really like just one available here, and I will make no secret that I want a hand in writing it.

I'm hoping the bosses will pin this, and once it's up and running and such I expect the bosses will remove all excess posts and close this, pinned at the top as a useful spot for reference. I also hope someone will do the same for Gorkamorka as I am doing for Necromunda.

My plan is to fill the void that 'Underhive' caused with its arrival, and I will not be making a secret of the fact that I am writing rules and articles that are aimed at the original Necromunda and Outlanders rulesets, and I only consider the current rules because of the availability for all those not as fortunate as I am to have so many Necromunda Resources to hand.

I am particularly interested in getting assistance in this project from you lot. I would like everything from your house rules, home-brew rules, articles, pictures (of you playing the game, of your terrain and so on), artwork, advice, questions, etc and any other help I can get really.

I'm currently discussing with the bosses what can be done with this thread, so stay tuned.

Dim
If you have any questions, you can always post them in my
Dim_Reapa: Necromunda Guru????
Thread.