Cheers for the response Giga and apologies for the delay in answering - been trying to get stuff worth posting done but mainly making virtually no progress but a lot of scrap
(don't think mega armour was designed for sitting down in, or for riding warbikes
).



P.S. A Warlord Titan banner would easily make the "ridiculously oversized" classification. 
Hur hur - I fink FW sells titan bits
Started work on the two twin rokkit launcha turrets for my skull'amma
L-R Radius arm for one side of the 'ball' turret (other arm's already fitted to the uppy/downy bit that the 'gunner' sits in), next to that is the assembled part Milliputted ball turret - the brass rod is there to make sure that the Milliput bosses have holes through them that line up correctly, once both sides have been done the rod will be replaced by two smaller rods so as the gunner can sit in the middle. Then there's the part 'putted 'turret' that will have the ball turret rotating 'up' and 'down' in it (again the rod through the middle will be replaced by two shorter bits) and at far right there's the bits of the turret part assembled hopefully showing the bits that have gone into them. 
I've used tinplate 'coz it's what I've got - it can all be duplicated in plasticard if blocks of sprue are used to reinforce the glued edges and the 'ball' turret is pretty much the same thing as a gun mantlet ('cept bigga, wiv an ork in it
).
In other news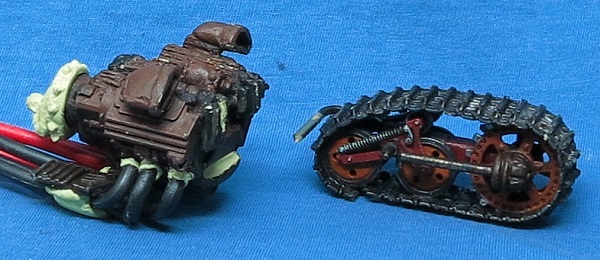 I've redesigned the new spare trukk engine a bit so it's about Wazzy sized and rooted out a back 'wheel' for it and I'm mostly done with Wazzy's mega armour - see if I can get stuff worth photo-ing tomorrow