Summer Sekret Santa - Season's Beatings
 
Its that time of year again ladz, for handing out season's beatins (not to mention other gifts) to consenting but unsuspecting victims! As we have a new edition, I'm expecting lots of interest this time round, so make sure you take part. And for newbies, read all of this​. I wont be repeating myself, and dumb questions that I've already covered are often ruthlessly mocked!
 
Make sure you read all diz, or you're a weedy git.


What's all this about then?
In time honoured tradition, Da Waaagh! is once again celebrating the summer season by generously giving out beating's to deserving Orks world wide.

So how does it all work then?
I'm glad you asked!

Names will be taken until Friday 30th June, at which point no further names will be accepted. In the week following, names will be picked at random and assigned to individuals, one name per entrant. The name you receive will be the person you will be gifting. Remember that the point of this event is that you are a secret santa, so it makes sense not to go blabbing about it to everyone. Based on miniatures preferences that your recipient will post when they register to be a part of the event, you will then be prompted buy/convert/paint/whatever you deem suitable for a gift.

You will have the following months to collect or work on whatever is being sent. The deadline for your recipient to get his gift is going to be Friday 18th August. That leaves you with plenty of time to put together whatever it is and get it sent out. Seriously.
 
(If you don't like the new bright coloured fonts for dates, you can blame Eastern Barbarian for missing them in a previous Santa)
 
THIS DOES NOT MEAN YOU SHOULD START THINKING ABOUT MAYBE BUYING A GIFT BY MID JULY, YOU LAZY GITZ!

If anyone puts it off this badly, they will be summarily barred from the next event. Prior events have gone fairly well, but some people were hit with RL issues and ended up putting things off til last minute. Order sooner rather than later so you don't get screwed by some store/shipping/natural disasters. So Santa is going to be a lot more vigilant. In fact, I'll be reminding Santas to get a move on. I had to do some Kicking last time, and it still overran horrendously. We are not making a habit of that.

What would constitute a suitable gift?
This is where we unfortunately get subjective. I'd like to think we all have the good common sense to pick good gifts in this regard. For guidelines, I'd suggest something like $10 (or 15-ish with shipping) as a minimum. Some of you may note that this is less than the last event. This is because a number of people complained about not being able to get enough money together for a gift. The minimum price on the gift is there to mostly prevent someone from sending a single arm from a miniature. I do encourage you all to go above and beyond the $10 mark if you can, and it'd be awesome to see that sort of thing on the whole. You will basically be held to the honor system to ensure that the person who you are gifting does not feel cheated.

My recommendation is to gift based on what you're capable of. Even if you aren't that good with models, you can definitely still participate - nobody's ever said no to a boxed set, and it's a nice and simple gift. If you're good at converting? Well, I can't think of a better gift somebody could receive than a converted mini - unless you are good at painting, in which case painted gifts would be really superior.

Single miniatures are more than welcome and might actually be preferred in some senses, so long as they meet the $10 minimum requirement.

Examples of what might constitute a good gift:
 


A boxed set?
 


A converted significant miniature?
 


A nicely painted miniature?

Examples of what constitutes a bad gift:
 


Something totally rubbish?
 


Or something wildly inappropriate that no sane person would ever ask for?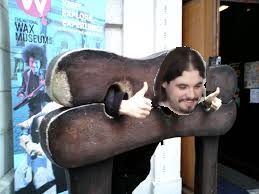 Something entirely excessive, like say Mat Ward in Stocks? Or at least hope your giftee is Dim...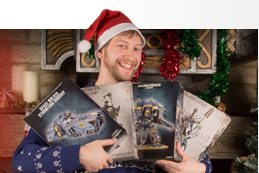 Or something ludicrously excessive, like what GW thinks you want for Xmas (that was literally taken from their site).
 
Also, because of controversy in recent Santas: no knock-off Games Workshop or Forge World products (i.e. Cheap forgeries. "Alternative" models from the likes of Kromlech or Puppetswar are acceptable as gifts, and it is the Recipient's responsibility to state if they cannot use alternative miniatures from other companies or do not want them for other reasons, and should say so in their PM). Anyone who gifts forgeries will be added to the weedy list below and will be summarily banned from all future Santa events.
 
 
Do not let your ambition exceed your means - that totally awesome idea you have in your head is worth nothing if you never actually get it done.

I live in ______. Can I participate?
Yes! Ideally, we would get a few people from all over - the U.S., the U.K., perhaps other parts of Europe to participate. To make sending the gifts easier, I will probably be organizing people into categories based on location while drawing the names to try and keep international mailing to a minimum to make sure that everybody can participate.

How do I sign up?
Entries are not considered official until I (SANTA KLAWZ) receive a PM from you containing the following:
 
Your name
Your address - PLEASE MAKE SURE TO INCLUDE COUNTRY SO I DON'T HAVE TO GUESS
What kind of orks collect/play/would like a gift from (such as: Warhammer 40k, Warhammer Fantasy, Epic, etc.. Basically clues for your santa)
 
If you do not send this PM, you will not be entered in the event

I require this information to make sure that you won't all have to pay an arm and a leg in shipping to make sure these minis arrive safely and intact. Still, some of you may have to make the sacrifice and drop a couple extra dollars on international shipping. I will try to avoid this, but it may become necessary if I can't organize people close enough to each other.

DO NOT SEND ME A PM JUST SAYING "I'M IN"

Even if you participated in the last event, I did not save your personal information. I also need to explain something - when your santa gets your information, they receive it in the form of THE SAME MESSAGE YOU SEND ME. I literally forward your contact information and model preferences to the person giving you your gift, so the reason to make you all jump through the hoops of filling the information out is so that I have something to supply to your santa. I also want to make sure I have up-to-date information, as invariably a couple people move during each event and that makes things a bit more difficult.

When you sign up, please put some money aside for the gift right then. If you do not have said funds, do not sign up. It makes no sense to sign up for an event you can't afford, so I want to nip this in the bud. I realize most of you won't know at the time of sign-up who you're getting or what you're going to be gifting, but it's not unreasonable to put twenty(ish) dollars aside for the event beforehand.

After you've sent the PM, I'd recommend you post the miniatures you collect or are interested in in this thread, as well. Too specific makes the gifting process a bit silly. List the games you wouldn't mind receiving minis from, as well as what you might already collect, so your gifter might have some starting point.

How do you assign santas?
Utilizing super-secret scientific method and a crack team of genetically modified supermonkeys, we assemble the Santa Master List at a classified military installation two miles underneath the desert somewhere in the American midwest. Or in a shed somewhere near Chiswick, no one really knows.

Operation 'PICK DA SANTA' operates under the cover of a number of randomly-drawn names from a hat for national security reasons.

[INSERT AN IMAGE IN YOUR HEAD OF A HAT WITH NAMES IN IT. THIS PROCESS RESEMBLES THAT IMAGE]

It's all done in one completely random shot. I don't tamper with it in any way, though I do take some requests into consideration in setting the names in the hat up (location, for example - I do a separate draw for the US and UK to minimize intercontinental shipping). This year I may try and provide a mix, depending on participants and whatnot, to reduce the chances of giftees receiving from the same people as they did in previous Santa events. It's worth discussing whether the Europe and US lot still want to remain separate this year.

What do I do when I send/receive my gift?

A few suggestions for sending the gift:
Include your name (forum name) so people have some idea of who is sending them this mystery box! It really shouldn't be all that hard to just write your handle on a piece of paper and throw it in.
Consider using Delivery Confirmation (With USPS it's like 75 cents, I think, although it only works within the US) so you can track your package and make sure it gets there.
Check in with your recipient via PM a few days after sending to confirm receipt if you don't hear anything.
 
Also, some guidelines for receiving the gift:
Let your santa know it arrived! One less thing they have to worry about.
IMPORTANT: Post in the thread that the package arrived, and show off what you got!
Take some zoggin' pictures, for gork's sake! Your santa probably worked very hard on the gift, and we're all dying to see what's being exchanged.
 
One last point: While lurkers are welcome to participate, I reserve the right to use discretion in ruling people out of entry. If you are an unknown on The Waaagh, I probably won't let you participate. Miniatures tend to be surprisingly expensive, and I really do not want somebody to try and take advantage of this whole event to just get free stuff.

And, well, if you try to rob the system, you do so at the cost of providing me your address. choppa.gif

It appears those grots have finally finished setting up Ork Town's own Ork-Aide Kommittee shack, full of spare gubbins and bits Santa's own oila snots work tirelessly with under the watchful eyes of the Ork Aide kommitee, lest any giftee not receive a gift. Joining the kommittee is voluntary, and open to anyone (even if you're not participating in the secret santa). However, joining the kommittee does grant access to the private drops and santa's best fungus brew!

All participants will be provided with access to the grot messenga account which will provide you with an anonymous method to contact your giftee should you have any questions for them or wish to inform them when to expect their package.

The List Of People Who Smell Funny And Failed To Gift In Prior Events:
Zanbu
Widge567
Gutzmeg
Ramashek
OIC

If your name is on this list, I won't let you sign up. If your name is here in error, please contact me so that we can get it resolved. As an added disincentive to be on this list... your Weedy Meter will get bumped up if you end up here after this event.

Da List of Santas:
laughterofgods
Garr
derry
notsosmartork
skarnir
​DocNuK
​morfangdakka
Big Mek GobSmasha
 
Ork-Aid Kommittee (hopefully we won't need these generous gits):
Dim_Reapa
skarnir 
DocNuK
Missed Sekret Santa Again? Have no fear, the Sekret Santa Mailing List iz 'ere!
Because we always get a few regulars or new hopefuls missing signups for the event, we will now be trialling the Mailing List. If you miss signup, you can contact SANTA KLAWZ, Dim_Reapa, or skarnir (the account names are exactly as presented) via PM, or post in the current Santa thread saying you wish to be added to this list. Registered participants (both Secret Santas and members of the Ork-Aid Kommittee) will be added to this list automatically if they took part during that Santa. Note that it must be the previous Santa. If you don't keep participating, I will assume you don't have interest, and that keeps the Mailing List to a manageable size (besides, if you change your mind there are plenty of other ways to get on the list).
 
Naturally, Santas that end up on the Weedy List can take it as a given that they wont be on the mailing list. Also, whilst you are on the Mailing List and will be informed when the next Sekret Santa is launched, that does not guarantee you a place (if say you are totally new to the forum, I might not let you participate). The point of the mailing list is to make sure that it's as hard as possible to avoid the Sekret Santa. Everything else is entirely up to Santa. Nuff sed.
 
Winta Santa 2017 Mailing List