Right I've been asked to make a tutorial, personally I think youtube video I posted in my build log was good enough.
Video in question: 
He made three great models.
So Here is my best step by step assembly guide.
Golden RULE:
I AM EYE BALLING ALL MEASUREMENTS DON'T ASK ME FOR A MEASUREMENT I DON'T KNOW!
Tools:
Superglue
Ruler
Box Cutter (or some other model knife)
Clippers
Tweezers
Materials:
A nob, I used ones from the Nob box and an old Assault on blackreach nob
Plasticard (030")
A garage sell sign
Plastic Rod & tube for the pistons (I used Evergreen Plastics 217, its an all in one kit enough for 3 nobz)
Step 1: Model Prep:
Right here is the base model I am working on he's an old conversion with a peg leg.
Before:
After clean up:
Right this next part is important, trim away the raised parts on the chest and  cut away anything hanging on the belt:
Step 2: The boot:
For this start by gluing a spare bit of sprue onto the base of the shoe: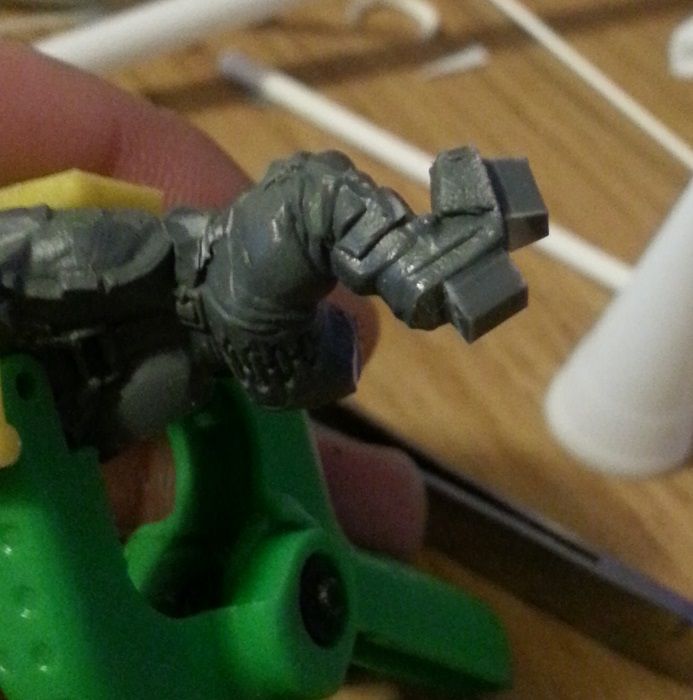 Next to make it easier to I glued two small pieces of card onto the extenstions. The bottom piece of card is going to broken off so don't use too much glue on it:

Because this guy has a higher heel I made the back of the boot first using strips of card that I glued into place, you'll notice they are long but thats not a problem you'll uses a pair of clippers to trim it down:
The next part is trimming I used my clippers some sand paper and my hobby knife its really easy just remember to give you glue 5 minutes to set:
The final part is the front of the boot, Just take another strip of card and bend it so you can make the front round keep it extra long, glue it into position then trim after the glue has set. To make the top band I just used a think sliver cut from a garage sale sign:
I noticed that I forgot to add a tab to the end heel, but I fixed that,
next well make the lower backpack.