Well it's that time again ladz, Ork Town is looking for new tenants!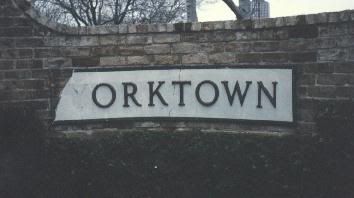 It's your chance to build and paint some proppa looking orky scenery, have the chance of winning a prize and the envy of your orky brothers, and have some fun in the process.
Ork Town part III is sponsored by
Ramshackle Games
, purveyor of quality models and bitz that will fit right into your ork armies.
Da Roolz
- Each entrant to build a named ork building (e.g. Gaf-Naz's Garage).
-- Or an Ork Town related Armies on Parade display board (only the board will be judged, not your army).
-- Or an Orkified fortification (see page 114 of the 6th edition rulebook).
- The entry must be newly built specifically for this competition.
- No minimum or maximum base dimensions restrictions.
- Multiple entries and dioramas allowed & encouraged.
- Threads to be opened in the Mek's Garage
once construction is complete
, any time before
September 1st 2012
.
- Threads to have 'Ork Town Komp' in the thread title.
- WIP photos, turorials and fluff encouraged.
- PIP photos encouraged and can be posted during painting so that you can get some encouragement to finish.
- Final painted photos to be posted in the same thread and the thread title amended with 'Komplete'.
- Closing date for final painted photos in thread:
December 1st 2012
.
- Winner to be announced: December 8th (ish).
Da Judgin Kriteria
Construction (30%)
Overall design. Use of bitz/materials. Quality of construction. Level of detailing.
NB:
We will mark your builds on the state they were at when you open your thread. You can add/amend things after that but they will not affect your score.
Painting (30%)
Quality of paintjob. Choice of paint scheme.
NB:
We will mark your paintjobs on the state they were at when you amend you thread title to "Komplete". You can add/amend things after that but they will not affect your score.
Thread (30%)
Quality of overall presentation. Quality of photographs - clarity and quantity. Explanation of build process. Explanation of painting process.
Bonus Points (10%)
Originality. Accompanying fluff. 'Orkiness' - judge's discretionary bonus.
Note:
Even if you think your terrain painting/building skills are lacking, you can still gain points from a well presented thread and being original and orky. Plus the only way to improve your skills is to practice them.
Da Judgez
The judging panel shall consist of:
Gaf-Naz: Mayor of Ork Town.
CannibalBob: Winner of Ork Town I and owner of Rutgotz Fungus Brewery.
Mad Grot Docsnik: Winner of Ork Town II and owner of Mad Grotz Messanga Service.
Ramshackle Curtis: Owner of
Ramshackle Games
and sponsor of Ork Town Komp III.
Da Prizes
The overall winner will receive:
- £10 store credit for
Ramshackle Games
.
- Kustom Gaf-Naz built "monolithik orkish artwork", proclaiming their klan allegiance and status as competition winner.
NB: Check out the monolith at the entrance to my
Mayor's Office
for an idea of what this will look like. Once the winner is announced, I'll contact them and build/kustomize the monolith to suit their klan.
The judges will also award a discretionary prize that shall award an entry that is either a good idea, funny idea, well presented thread or just "ded orky". This prize will consist of:
- A small bag of bitz from the Ork Town Mayor's bitz box.
- Some resin squigs sculpted by, and kindly donated by, Kleiner Zorn.
Apart from the above prizes, all entrants who finish on time will be featured on the Ork Town map and in the Ork Town Story (depending on when I get round to working on them again
).
Da History ov Ork Town
Ork Town I thread.
Ork Town II thread.
Founding settlers:
1st.
CannibalBob - Fungus Brewery
2nd.
Mad Grot Docsnik - Memorial/Statue
3rd.
Morgrazd - Derrick
4th.
92acclude - Mek's Garage
4th.
GorGor - Brew Shack
5th.
Utan - Tellyporta Station
6th.
Nose - Refinery
7th.
deamoncow - Rok Landin Site
8th.
Guldakka Da Pirate - Casino
9th.
Dakka Dakka - Spore Field
Second wave of settlers:
1st - Mad Grot Docsnik -
Mad Grotz Messenga Service
2nd - Lorax of the Bleeding Grin -
Checkz and Daggz Taxi Service
3rd - hakbash -
Choppaporium
4th - Grubsnikk -
Da Waaagh Room - Feeld Mars'ull Grubsnikk's 'E.K. ('ead-kwarta)
5th - Utan -
Da Ork Town Slums
6th - MasterOwen -
Gazza'z Fighting Pit
6th - praetorian13 -
Sprew Mek's Waaagh! Towah
Note: Just because someone's allready built a type of building, it doesn't mean you can't build another. There's no reason Ork Town can't have 2 garages, breweries or choppa shops. A little competition amongst businesses is always healthy!
Da Prospektiv New Tenants
Zagursnik
Kleiner Zorn - Mek Shop -
Build Stage Komplete
Kleiner Zorn - Dok Spleenfixas Shed uv Reshuvineshun -
Build Stage Komplete
Voark - Funfair
nkelsch - Toof-Mart
Gobsmakk'd - Da Armoary & Ammo Dump
Shadey - Gatehouse/Fort
xzantrax - Da Gazwerks
Mudd da Grot - Starborks Koffee House
Dim_Reapa - Brewhouse
big mek tank krusha - Mine / Quarry
scargutts - Power Plant / Generator House
Badfang Brassaxe - Airport
Magus Gar Kan - Aegis Defence Line with Las Cannon
Big Mek GobSmasha - Tellyporta Arrayz
MasterOwen
Gitkicka - Ork County Choppas
Warboss Kruncha - Da Space Statshon
PassionFruit Power - Stompa Factory
Nazbag
ridin_shotgun - Dok SkarGrim's Hut 'o Cirkus Freaks -
Build Stage Komplete
Ghazghull - Landing Pad
So if you're interested in moving to the most proppa orky settlement this side of the Scarus Sector, let us know by posting in this thread, and let us know what you're building if you've already decided.
If you have any questions/suggestions, or want to smack-talk fellow Ork Town residents, feel free to post in this thread.
Good luck everyone, and may the orkiest ork win!
Edited by Gaf-Naz, 31 August 2012 - 06:05 PM.