While I've used this a few times on various builds, I've never actually done an actual step-by-step pictorial lesson of the hairspray technique.
This was pioneered by Phil Stutcinskas who now works for Forgeworld, but now has a wide audience within the Military Modelling community. He describes it as an inset box in Imperial Armour Model Masterclass Volume 1. I present an example of it with my own work on the Forgeworld Kill Bursta Tank. While I largely follow Phil's technique, this one has a slight variation. The hairspray technique is a type of "paint removal" technique, where paint is applied to the model, and then removed. This technique is best used when a look of heavy wear/chipping is what you're after. It works very well for Ork Vehicles.
So here goes.
Materials you will need:
An Airbrush - Preferably Dual action. Mine happens to be a Grex XG. I think it's possible to do this technique using the GW Spray Gun.
A can of aerosol hairspray.
GW's Purity Seal Varnish - Phil specifically recommends this spray over anything else. It needs to be a Lacquer-based Satin Varnish, which Purity Seal is, otherwise this whole technique won't work.
Acrylic Paints:


Scorched Brown
Dark Flesh
Blood Red
Golden Yellow
Blazing Orange
Codex Grey or Tamiya XF-53 Neutral Grey

Tamiya X-20A Thinner - For thinning the paint going through the airbrush. Use this even if using the GW Spraygun.
Step #1: Base Coat
After spraying the whole engine with Black Primer, I airbrushed it using Scorched Brown as my overall base. Rusted Metal often takes on a dark brown appearance at its base.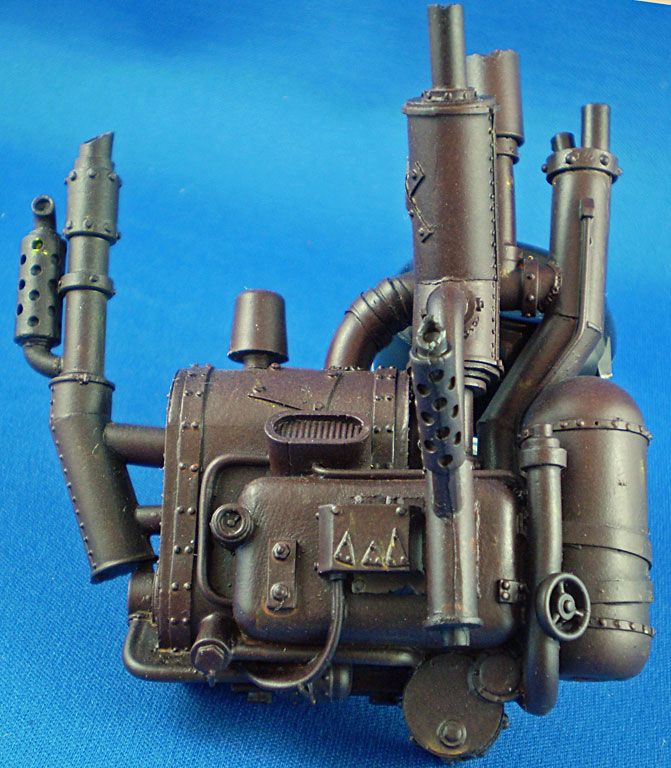 Step #2: Enhancing the Base coat (optional)
This is where I borrow a technique outside of Phil's steps. I wanted the base rust layer to look a lot more hodge-podge than a single smooth colour. As such, I sponged on Dark Flesh, Blood Red, Blazing Orange and a bit of Golden Yellow. It looks really overdone in this picture, but as you will see, it won't be that prevalent in the final product.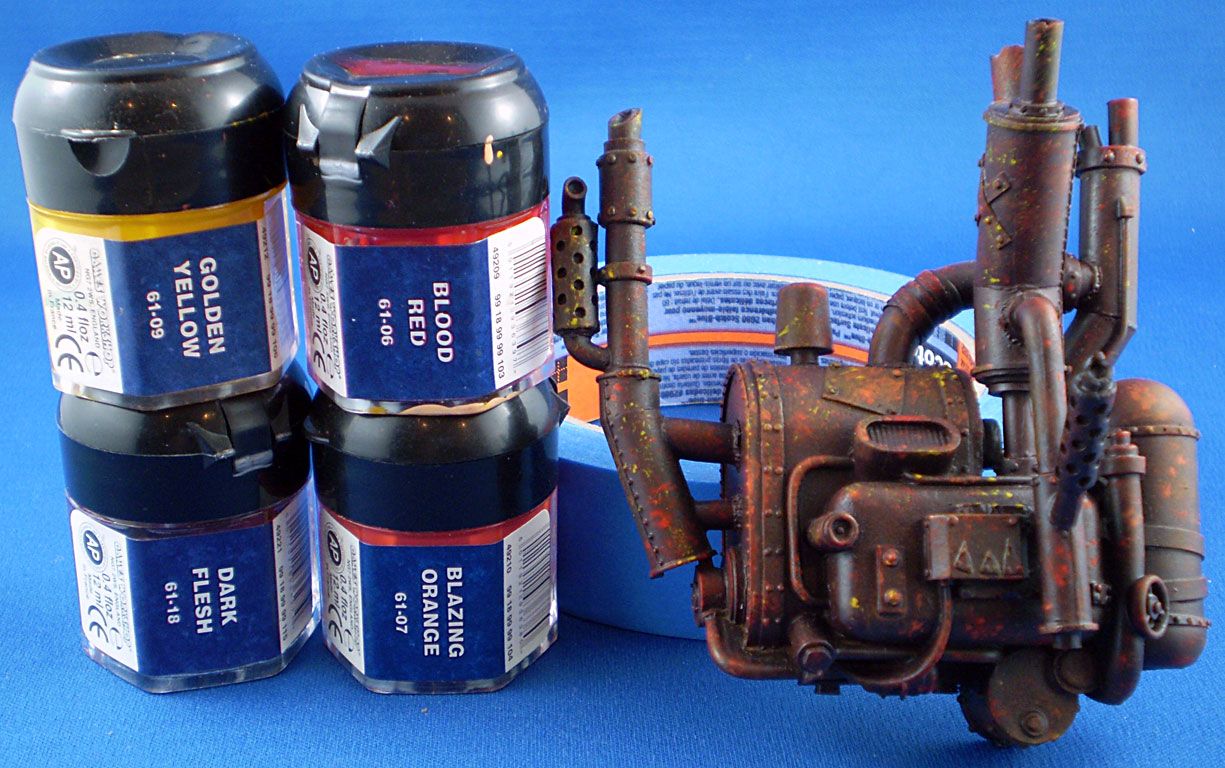 Step #3: Purity Seal (not optional)
Seal the model using GW's Purity Seal Satin Varnish. It needs to be a Lacquer-based Satin Varnish to provide a protective layer that the hairspray can't easily bond to. Phil has tested a number of different formulations, but in this case GW's own Purity Seal comes out the best. If there is a most important step, this is it. Miss this step, it won't work. Period. In this case, I sprayed 2 coats of Purity Seal on just to be sure.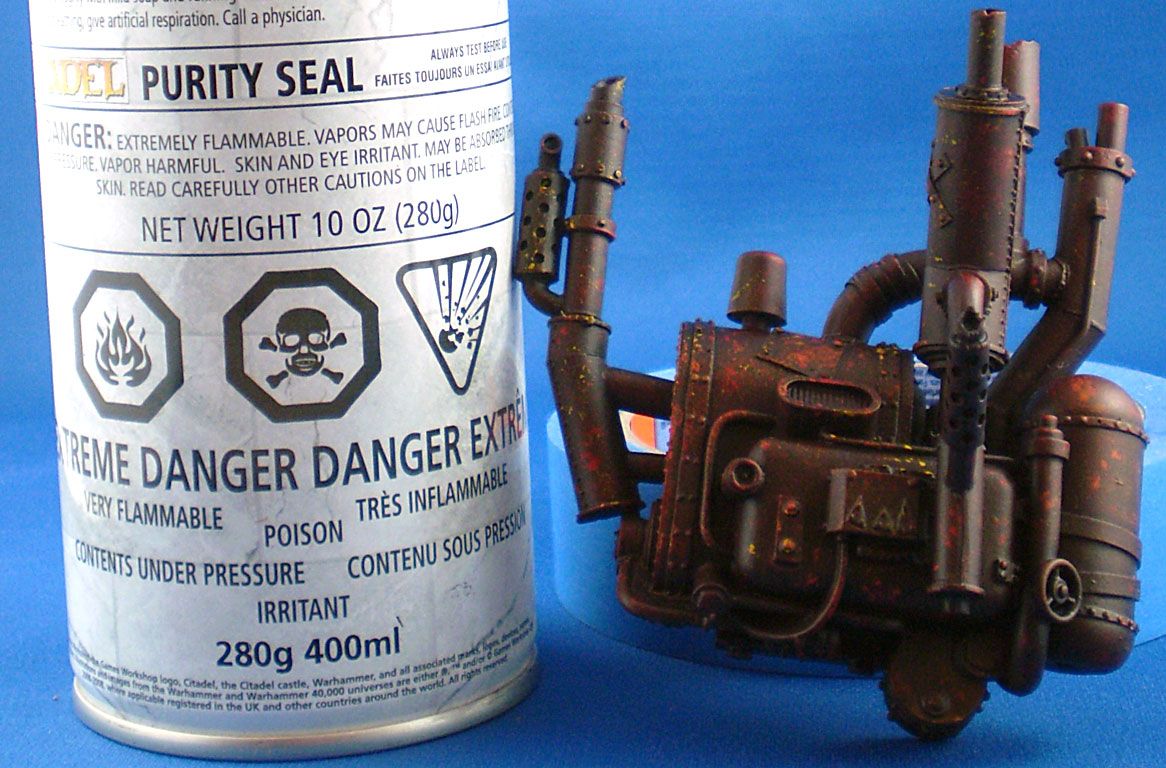 Step #4: Hairspray
You don't have to be picky about the hairspray used. Anything will do. In fact, I ran out of hairspray just as I was preparing to do this and had to run out and get a new bottle of it today. Aerosol spray is the best... although you can decant it and spray it through an airbrush if you want to for better control. I didn't need better control and sprayed this right over the piece straight from the can. For this piece I only used one layer of hairspray, but you can certainly apply more than one letting things dry between the layers. The more layers of hairspray the heavier the wear.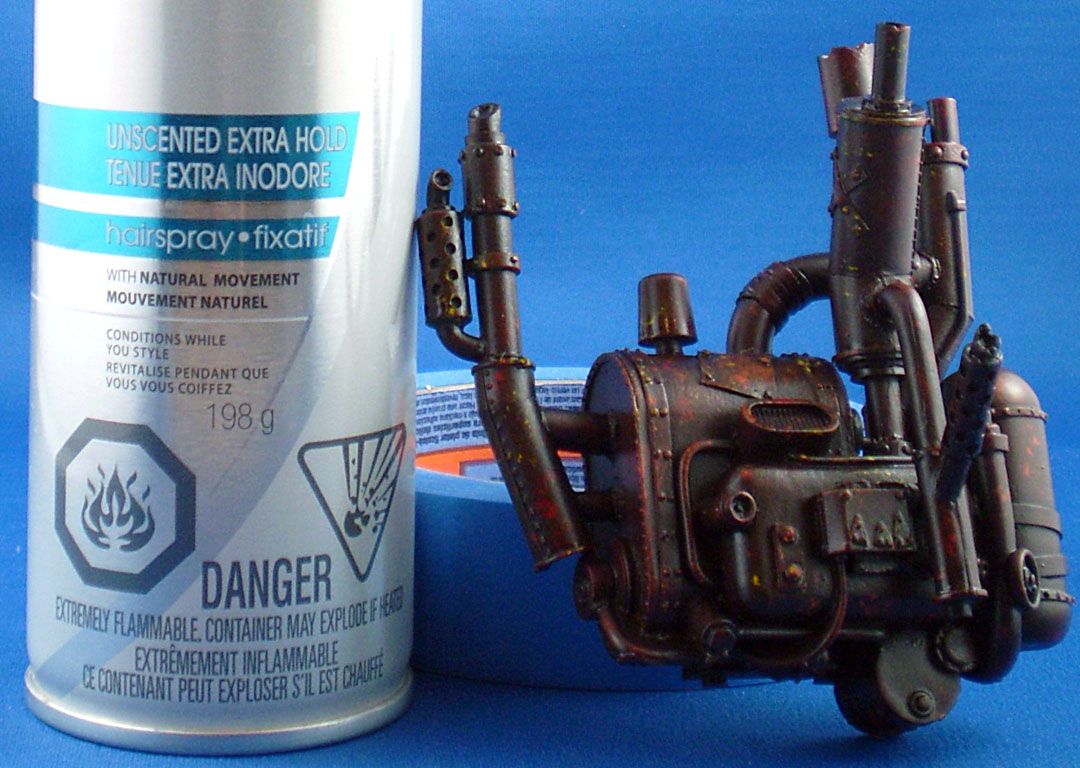 Step #5: Top Colour
In this case, I wanted the engine gubbinz to look reasonably new by Ork standards. The engine bits would certainly have acquired dirt and rust, but Bad Moonz are unusually clean for Orks. As such, the top colour would be used to represent the basic grey-steel colour that was starting to rust away. The top colour can be whatever you want it to be. Keep in mind that having something that contrasts well with the previous layer will make it stand out more. I've used this technique on Goff stuff, but because it is so dark, it doesn't translate well to pictures. In this case, I airbrushed Tamiya XF-53 Neutral Grey, but Codex Grey airbrushed works just as well. This is not something that can be hand brushed, it must be airbrushed on, otherwise you will dissolve the hairspray before it is ready to be dissolved.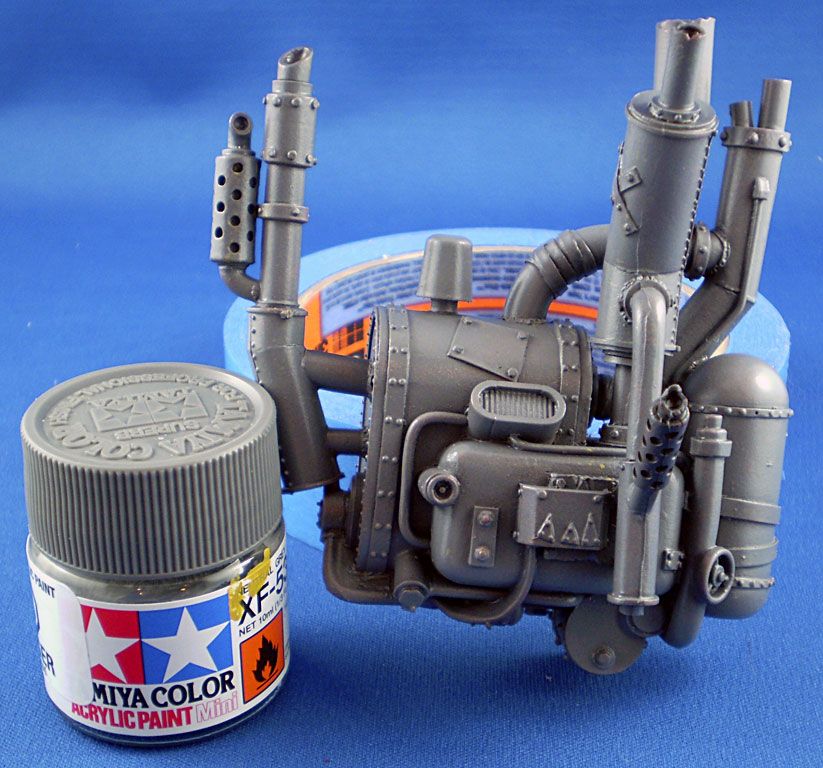 Step #6: Hairspray/Paint Removal
What makes this technique work is the fact that Hairspray is a water-soluble fixative. The hairspray sticks to the model, the top colour sticks to the hairspray. Dissolve the hairspray, and the paint comes off in a very natural-looking way. All that is really needed to dissolve the hairspray is a soft brush and warm water. Using the wash brush and warm water I basically soaked the whole thing by slopping water all over it. I then came back continuously keeping the brush very wet, using gentle strokes brushed the surface until the paint began to sluff off. I would work on one area until I was happy with it and then move onto the other. For some of the more scratched areas, I lightly scrubbed using the stippling brush, and then came back with the wash brush. Once I was done, I used a paper towel to wick away any excess water.
Once you've done this step, it is a very good idea to seal the model again using varnish. In this case, I sprayed it down with 'ardcoat to give it a protective layer, plus the next steps that I will be taking. While the engine is essentially done from a chipping standpoint, there are other techniques that I will be applying later on including a oil-based wash, as well as rust streaking. Those are for a later tutorial as they are not specifically tied in with the hairspray technique.
Thanks for listening. Let me know what you think.