Hey Warboss Tae here with my first ever 40k army.
Fluff-wise, it's a freebootin', world-hoppin', fungus-beer-drinkin' mob of orks that have left their separate clans to join Azbag da Stomper'er's space-farin' Waaagh!
I like painting all of the different clans and thought, "Why bog myself down with one of the six clans, when I can paint stuff from each one?\" Hence, the freebooter theme.
Also, I thought, why just have squads of each clan (a squad of Deathskull lootaz, a squad of Evil Sunz bikerz) when I can mix em all up? So, my solution was to create the following table and roll a D6 for each model in the unit, to decide what clan the model originally came from, then paint it accordingly. It's kept it fun and kept me interested in continuing to find new and interesting ways to convert and paint the models once I knew where they came from.
Case in point, I knew that one of my Nobz would have a power klaw and a WAAAGH banner, so I rolled on the following table:
1-Snakebite
2-Deathskull
3-Evil Sunz
4-Goff
5-Blood Axe
6-Bad Moonz
I roll a 1.
So, a Snakebite, eh? That influenced how I would model and paint him. I gave him some Warhammer Fantasy bitz like the bull skull helmet and a Fantasy Goblin Standard, and thought, since he cam from the tribal and primitive Snakebite clan, it would be hilarious to give his Power Klaw a hand crank, to show that each time he wanted to use it, he'd have to crank it up to get it going!
Hope you guys like them, I'll continue to post pics as I progress!
Here's my Warboss, Azbag da Stomper-er:
Mad Dok Smash Atoms (he thinks he's a klown at a chldren's hospital! Notice the ducks painted onto his scrubs? Haha, I rolled a Deathskull and wanted to do something original):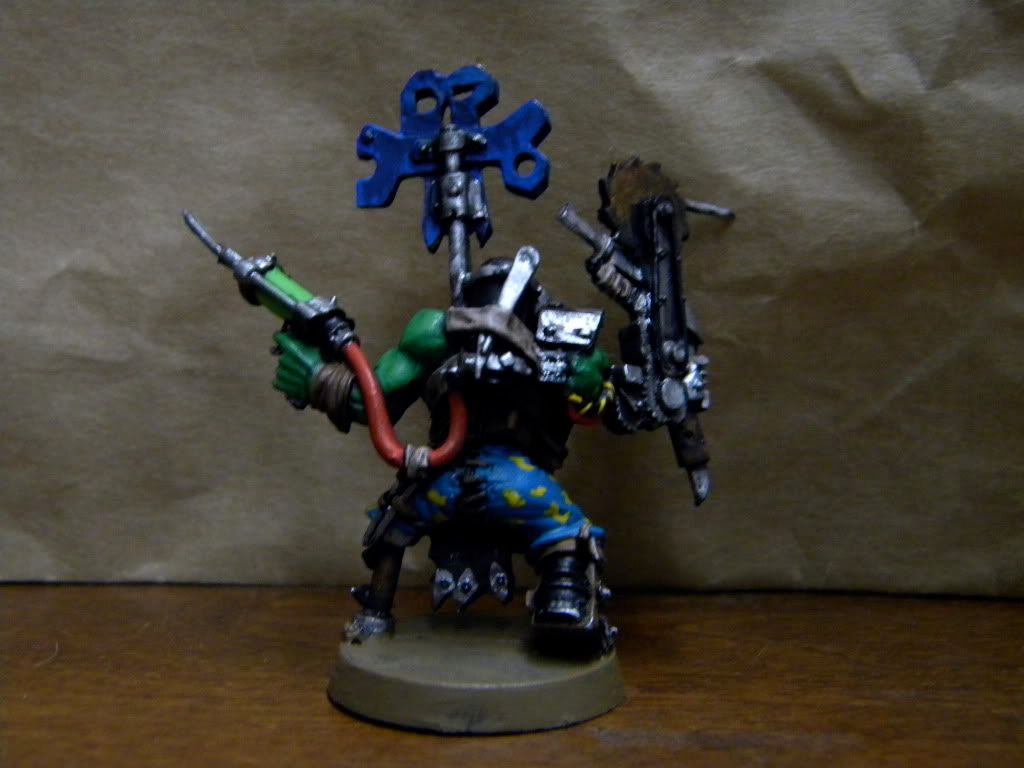 All the Nobz have Cybork Bodies, 'Eavy Armor, and various weapon loadouts.
Starting with my Snakebite Nob, Chief Raging Squig (Waaagh Banner and Power Klaw)
Major Bludd with Greenstuffed Commisar's cap (Power Klaw and Slugga)
Yellow Fevuh (Twin linked Shoota and Power Klaw)
Big Bloo (Big Choppa) and Da Red Baron (Slugga/Choppa)
Serjunt Slaughta (Shoota/Skorcha and Power Klaw)
http://i198.photobuc...jr/DSCN0079.jpg