BLAM!
Big Mek Riff's boot easily opened the small door in the side of the warehouse, this was the last one to be checked and the bigger doors at the front made it look like a garage.
Behind him he could hear to Nobs still 'discussing' who'd be the new Boss - he'd only had one challenge for his status and was a dozen teef up as a result – once that happened he knew that they were going to want to be out looting and they'd need at least one working Trukk to do that. The scrapyard at the back of the base held some possibilities – a superheavy sized crawler, some umie bikes, a drilling rig and the back half of a uge dumper trukk that looked like it had been crushed
Inside he thanked both Gork and Mork for his good fortune. It was the base's garage and had enough tools and scrap to setup a new Mekshop even better than his last, even better there were 3 umie Trukks, at least one of which looked like it could be running in a day or so, but the Meks could do that – he had a plan.
So I wanted to build an Ork trukk, I like the model, but I thought it could do with being a bit longer with the same size wheels at the front as well as the back. To do this I'd need a second trukk as a donor for the wheels. Next plan - I'd make the second trukk a half track using guard wheels and tracks.
At which point I had inspiration from the strangest place...
Walt Disney.
http://www.drawn2get...the-bushwacker/
And on to the build:
Tracks - I'm not sure if I can find tracks the right size so I may end up scratching the links, the 2 smaller wheels can be from the guard tanks and the big road wheels will be supplied by Lego
Front Wheels - Lego again, I love Bricklink!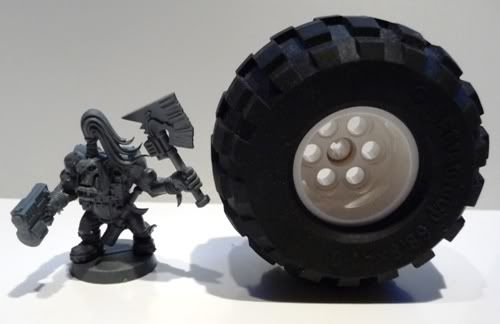 Cab - The cab in the pics is a bit too skinny and a bit too curvy, I want to be tweak it a bit to make it a bit more square and Imperial. A bit of research found me the Diamond T 969
http://www.wheelsofv... t wrecker.html
It has all of the characteristics I wanted while still retaining the look of the Bushwacker. The trukk kit will supply the driver and Imperial tank searchlights for headlights.
Body - The crane will stay to keep the Wrecka look, though it'll probably be a bit less spindly. Not quite sure what to do with the load bed - probably keep it flat to begin with for carrying boys, maybe some shootas.
More in my blog -
Feenix Rising - Rebuilding the mob